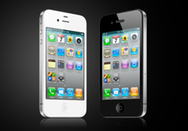 Apple on Tuesday began selling an unlocked version of the GSM iPhone 4 to U.S. customers. Until now, Apple's only sold carrier-locked iPhones here, with separate AT&T and Verizon editions of the handset—though unlocked iPhones have long been available to customers in Canada and Europe.
In theory, this should allow users to purchase and use the iPhone on T-Mobile's GSM-based network, though since the carrier uses a different 3G frequency, you'll only get EDGE speeds for data; voice features, excepting carrier-supported features like Visual Voicemail, should work fine. But international travelers may be the real winners here: They can now take one iPhone with them and pop in a new micro-SIM card overseas.
Expect some sticker shock. The unlocked iPhone 4 costs $649 for the 16GB version, and $749 for 32GB. That's because when you buy the iPhone 4 from a carrier, it comes with a two-year contract requirement that's used to subsidize your upfront cost. Both black and white models of the unlocked iPhone 4 are available.
If you purchase the unlocked iPhone 4, Apple says that you're responsible for procuring your own micro-SIM and cellular contract with a compatible provider. Apple warns that iPad micro-SIMs will not work with an iPhone 4.
While the unlocked iPhone will likely only capture a small portion of the market, it's yet another box Apple can tick with its detractors. This follows the addition of the Verizon iPhone earlier this year, which let the company sell to a huge block of previously unavailable customers. No doubt Apple would like to be able to sell an iPhone to anybody and everybody, regardless of their carrier situation, so perhaps additional carrier deals are in the works.