At a Glance
Expert's Rating
Our Verdict
Editor's note: The following review is part of Macworld's GemFest 2011 series. Every day from mid June through July, the Macworld staff will use the Mac Gems blog to briefly cover a favorite free or low-cost program. Visit the Mac Gems homepage for a list of past Mac Gems.
One of the most underused features of iTunes, in my experience, is that you can rate each track on a scale of one to five stars. Ratings are helpful on their own for finding your favorites, but they're also immensely useful for creating smart playlists in iTunes. But rating tracks is a bit of a hassle: You've got to stop what you're doing, switch to iTunes, find the currently playing track, and then click the desired rating.
A number of third-party utilities aim to make it easier, or at least more convenient, to rate tracks, and my favorite remains Potion Factory's $1 I Love Stars ( Mac App Store link). I first reviewed I Love Stars back in 2009, but the utility has since gained some useful features and is now offered through the Mac App Store.
I Love Stars puts iTunes' rating scale right in your menu bar. If a track already has a rating, you see that rating without having to switch to iTunes. I Love Stars also supports iTunes' album ratings; if you've rated an album, the album rating is displayed for each track in the album that doesn't have an individual track rating.
If a track is unrated, or if you decide to revise your original rating, you simply click the appropriate star or—a nice touch—move your cursor over the scale and use your scroll wheel or scroll gesture. It's that simple. (If you've rated an album in iTunes, I Love Stars displays the album rating, as star outlines rather than solid stars, for all unrated tracks on that album.)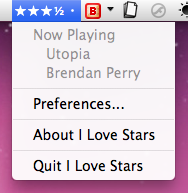 But I also like the other useful features Potion Factory has included. To conserve space in your menu bar, I Love Stars' rating scale automatically hides whenever iTunes isn't playing; depending on your preferences, it can also hide whenever podcasts, audio streams, or particular genres of music are playing. (If, like me, you'd prefer I Love Stars didn't disappear completely, a new option lets it collapse to a single icon in these situations.)
Perhaps my favorite feature is the option to remind you to rate each song. Whenever iTunes gets about two-thirds of the way through an unrated song, I Love Stars can flash its menu-bar scale, play an alert sound, or both, jarring you out of your music-listening stupor to give the track a quick rating. And if you find iTunes' five levels of rating too limiting, I Love Stars lets you give tracks half-star ratings: 0.5, 1.5, 2.5, 3.5, or 4.5.
One new feature I find especially useful—if you've ever seen my menu bar, you'll understand why—is that I Love Stars now forces itself to the left-most end of your menu-extras area, making it easier to quickly locate among the various icons. Wherever the menu is located, you can right-click (Control-click) it to view the currently playing track's name and artist and to access the program's preferences. (I'm still hoping this display will eventually include the album name, as well.)
Finally, you can assign keyboard shortcuts to whole-star ratings (1, 2, 3, 4, and 5), as well shortcuts for increasing or decreasing the rating in full- or half-star increments.
There are a number of full-featured "iTunes controller" programs that include track-rating options, including the stellar CoverSutra. But for simply rating tracks, I've found no better solution than I Love Stars. I actually use it with CoverSutra.
Want to stay up to date with the latest Gems? Sign up for the Mac Gems newsletter for a weekly e-mail summary of Gems reviews sent directly to your Inbox. You can also follow Mac Gems on Twitter.