This week's roundup of iPhone 4 cases includes cool new products designed to elicit nostalgia for the 1970s and '80s. But without iPhones back then, how can we be nostalgic for such a deprived time? Read on for the possibilities.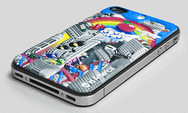 id America: Protecting your iPhone 4 can be done in style. That's why id American has introduced its line of Cushi soft foam pads for the phone ($12 each), available in three different 3D-style retro designs. You apply a pad to the back of your phone, making the Cushi compatible with Apple's iPhone 4 Bumper, but you can easily peeled off the Cushi without leaving behind any messy adhesive residue.
IvySkin USA: IvySkin's new Wrangler ($50) is a two-piece affair, made of polycarbonate materials and featuring a "touch-thru" screen guard to protect your iPhone from both the elements and rough handling like. The case comes with attached pop-in covers for the iPhone's headphone jack and dock-connector port to provide added protection against moisture. The Wrangler is available in four different colors.
SharkEye: This company's new iPhone 4 case ($50) is built for rugged use, with a rigid outer shell and a soft interior to protect your phone from drops. The SharkEye also includes a belt clip, a retractable screen protector, and elastomer plugs to protect the phone's ports when they're not in use. The case comes in six color versions, although, in the spirit of Henry Ford, the primary color on each is black.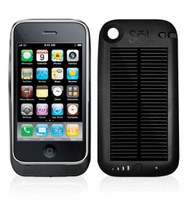 SoL Marketplace: There's no reason you can't love your iPhone and still try to be friendly to the environment. The SoL Solar Charging Case ($90) lets you power up your iPhone 4 using the natural power of the Sun. (The case is also available for several other models of iPhone and iPod touch.) The case includes an internal lithium-polymer batter that, via its USB port, lets you sync and charge your device—and the case's battery—when within reach of your computer. (SoL claims the case charges your phone up to three times faster than wall chargers.) The case sports a built-in LED flashlight and ships with a mini USB cable.
United SPG: SPG's new Linear Color Series line of snap-on cases comes in nearly a dozen different color combinations, and the Linear Crystal Series includes 11 variations on a "crystal" theme. Each $25 case provides a clear back cover for your phone and a two-piece frame that covers the phone's edges.
USBFever: Apps such as Instagram and Hipstamatic already give your iPhone photos an old-school tint. Why not do the same with the phone itself? That seems to be the thinking behind USBFever's RETRO DSLR Camera Style Case for iPhone 4 ($23), which gives your iPhone the appearance of a 1970s-era Kodak Instamatic camera. If you're more the gamer type, the company's Retro Game Console ($23) gives your phone the appearance of a classic Nintendo controller.
iPhone 4 32GB Black (CDMA, Verizon)
iPhone 4 16GB Black (CDMA, Verizon)
32GB iPhone 4 (GSM, AT&T)
16GB iPhone 4 (GSM, AT&T)
When you purchase through links in our articles, we may earn a small commission. This doesn't affect our editorial independence.