At a Glance
Expert's Rating
Our Verdict
Flagit is a simple add-on to Apple Mail that adds multiple flag and deploys a creative flagging method, aided by flexible and extensible flagging tools, that's both attractive and utilitarian.
Editor's note: The following review is part of Macworld's GemFest 2011 series. Every day from mid June through July, the Macworld staff will use the Mac Gems blog to briefly cover a favorite free or low-cost program. Visit the Mac Gems homepage for a list of past Mac Gems.
Apple Mail is generally a fine application, but that doesn't mean it couldn't use a little help. Mail users know too well that its default flag feature—while better than nothing—is hardly robust. There's only one flag icon and one way to flag, so if you want to search for specific kinds of flagged messages or organize them in some way, you're out of luck. This diminishes Mail's usefulness. If you're looking for a way to make more productive use of your e-mail as an organizational tool, you're going to need something better.
Flagit, a $15 utility from Tasty Apps, is a simple add-on to Apple Mail that performs the needed task of differentiating between types of flagged items. But don't confuse simple with one-trick. Flagit deploys a creative flagging method, aided by flexible and extensible flagging tools, that's both attractive and utilitarian.
The utility adopts Apple Mail's familiar flag design and then expands its range. This means you can easily use your existing Mail flags alongside Flagit, if you want to. Flagit's default red-orange flag is roughly the same color as Mail's, except that the pole in Flagit matches the flag color, while Mail's flag pole is white.
Flagit's interface is located by default in the same place as Mail's flag, superimposing its commands over Mail's built-in commands in a pull-down menu, so that all flagging tools are in one place. This gives you the option to switch back and forth between the Mail's markers and Flagit's, though once you start using Flagit, there's no reason to use Mail's default markers. You also have a choice of accessing Flagit exclusively via Mail's Mark menu.
The program starts off with five flags: red, orange, green, pink, and blue, and labels them as Urgent, To do, Pending, Ignore, and Check this out. You can use Mail's (the Mac OS system) to set these flags to any color you want. You can apply the color to the flag only, or to the entire email text line, which is a very nice option if you need your flagged item to really stand out. An icon with an As Completed checkmark gives Flagit simple to-do functionality that, for some, replaces Mail's to- do checkmark with a more uniform and personalized interface.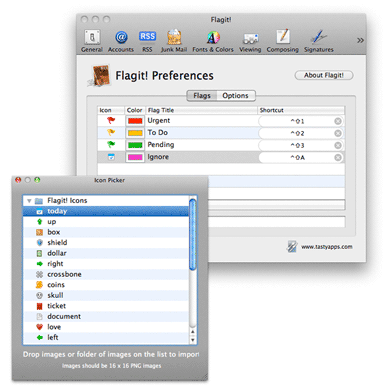 Once you install Flagit, you can access the app in its own preference pane within Mail. With that pane, a Flags tab lets you add and assign colors to an unlimited number of flags and set or remove shortcut keystrokes to them. You change the titles and colors of any flag. You can mark mail as a question or as important under the Mark menu.
You're not just limited to the flag design: Flagit comes with a folder full of customized icons that you can use to mark your messages. Just double-click on the flag icon to access Flagit's icon picker and choose from 22 small icon flags. These are not the most brilliant designs, but hey, they're flags, and really small. Plus, you can design your own icon in 16-by-16 pixel size, just as you would a favicon. When you're ready to use the icon, drop it into the icon picker folder, and it will be accessible via the Flagit interface.
With Mail's flag, the only thing you can do when an item drops in priority, is unflag it. Flagit's Completed check mark helps you find old items and determine their disposition. To unflag, just click the trash can (clear flag) icon in the pull-down menu.
Flagit began life as the vendor's in-house app to help sort customer inquiries, but it evolved as a consumer add-on for Mail as the developers realized its appeal. It supports Smart Mailboxes, sorting by flags, Exchange accounts, and IMAP. With the current version, Flagit flags are collectively recognized by any Smart Mailbox that uses "As flagged" as part of its search criteria.
Flagit is a great app, and remedies many of Mail's deficiencies, but it too could stand some improvement. It's understandable that an e-mail recipient must have Flagit installed to see a sender's flags, and the fact that it works on IMAP accounts is a major advantage. However, its incompatibility with Web-based accounts such as Gmail or AOL (but especially Gmail, which is on its way to ubiquity), unfortunately detracts from the app's usefulness.
There are minor inconveniences as well. Flagit does not use Mail's (the Mac OS) undo—you have to go through the Flag menu to undo a recent action. When you change the color of a flag, it does not automatically change the colors of all the previous flags in the category. So decide on a color you like for your notations and stick to it, unless you feel like replacing all of your flags.
Flagit 1.7 is an easy to use and flexible utility that goes a long way toward correcting some of the deficiencies of marking and flagging in Apple Mail. Its ability to add flags, invoke them with keyboard shortcuts, and share them over certain IMAP accounts is impressive. However, until it works with Gmail IMAP accounts, it remains of limited use to large numbers of potential users.
Want to stay up-to-date with the latest Gems? Sign up for the Mac Gems newsletter for a weekly e-mail summary of Gems reviews sent directly to your inbox. You can also follow MacGems on Twitter.