"Weird Al" Yankovic fans slowly going insane while they await the official release of his forthcoming Alpocalypse album can start satiating their need for new Al content with the comedian's new iOS app, When I Grow Up. The app, based on Yankovic's best-selling children's book of the same name, features the full text and artwork from the book, along with games, Easter eggs, and other interactive elements.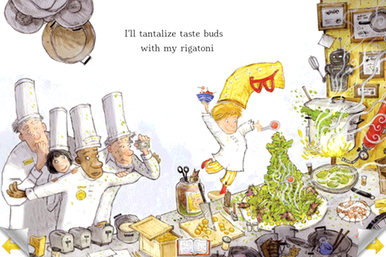 The story focuses on eight-year-old Billy and the various jobs he imagines he might hold once he grows up. While you can simply use the app as a glorified, touchable ebook, you can also let Yankovic read the story to you; the words he speaks are highlighted as he says them. When you're finished reading the story, the app's built-in games let you try out some of the vocations Billy considers; you can shave a tarantula, massage a gorilla, and race snails; the app promises that more games are coming soon.
As you read through the book, tilting and tapping your device elicits all sorts of hidden surprises: On one screen, tilting might make Billy's crayons slide around his desk; swiping on another screen sends his homework flying.
In a statement provided to Macworld by Team Yankovic, His Weirdness said: "I dreamed of one day helping to produce a cross-platform app that would be sold in the iTunes Store. I was a very prescient kid."
The app—which weighs in at a hefty 257MB—costs $3, works natively on the iPhone, iPod touch, and iPad, and requires iOS 3.2 or later.