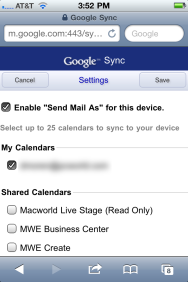 If you're using Google Sync to connect your Gmail and Google Calendar data to your iOS device—and really, if you're not, you should be—the folks in Mountain View have whipped up a few new tweaks that will make that experience all the more pleasant.
First up, Google has improved email searching: Instead of just combing through the messages stored locally in iOS's Mail app, accounts set up with Google Sync can now use the Mail app search all messages residing on the server as well. So if that key itinerary got pushed off your local device, you don't have to keep scrolling through pages of your inbox and repeatedly hitting Load More Messages to find it.
There's another email-related improvement as well, this one specifically targeted at those who manage several email accounts. If you've set up your account to use something other than your Gmail address as the default Send As account, you can now configure your iOS devices to respect that. Just visit m.google.com/sync on your iOS device and tap the checkbox next to the "Enable 'Send Mail As' for this device" option. Now, when you compose a new message, it may say that it's being sent from your Gmail account, but when it shows up in the recipient's inbox, it will be stamped as from your default Send As address.
Finally, if you're not so much into mail as calendar events, you'll be glad to know that you can now accept, decline, or edit event invitations directly from your iOS device's Calendar app.
While the first and last options require pretty much no configuration on users' parts, the second one is a bit tricky to set up, given Google's somewhat clunky Web-based interface for configuring its sync preferences (especially if you have, say, a Gmail account and a Google Apps account for your domain). We'd love to see a friendlier approach from Google on this front—would a native iOS app be too much to ask?