Flower Coach by Teleflora appears to be built around the premise that the major obstacle standing between you and sending flowers to a loved one is your inability to string two sentences together that adequately convey your affection or appreciation for your intended recipient. To that end, the free app from Teleflora includes a message-generation tool that, in the app's words, "help you say it beautifully." This much is true, so long as your idea of a beautiful sentiment includes the occasional reference to your beloved's derriere.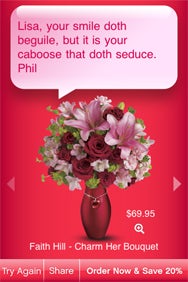 After you launch the app and pick the appropriate occasion—birthday, romance, "just because," and so forth—Flower Coach takes you to its note-generation page. Here, you're presented with three sliders that let you determine whether your message should be silly or serious, sexy or sweet, and street or Shakespeare. Toggle the switches, tap the Show Me the Note button, and prepare to be dazzled as Flower Coach casts your feelings into words.
Or perhaps not. When I tested the app by ordering flowers for my wife, Flower Coach produced a lot of notes along the lines of "Your smile doth beguile, but it is your caboose that doth seduce" or "I think you are the prettiest girl I've ever seen… and I've seen those girly magazines." Appropriate sentiments for some relationships, perhaps, but not exactly the kind of felicitations I care to send to my wife. Fortunately, there's a Try Again button that you can tap to re-adjust your settings and hopefully produce a better sounding sentiment. After a few tries, Flower Coach might even get it right.
Judging by the Teleflora TV ads—included in the iPhone app for reasons I can't really determine—I am not the intended audience for Flower Coach's marquee feature. Still, I can't help but feel the tongue-tied, floppy-haired kid in the ad might appreciate an option for writing his own note if Flower Coach proves unable to generate an appropriate message.
Auto-generating a personalized message of heartfelt sentiment is only one aspect of Flower Coach. The app also exists to let you order flowers for delivery directly from your iPhone. Once you've OK'd Flower Coach's message as coming straight from your heart, the app presents you with six possible floral arrangements. You can only view one at a time, scrolling between them with a flick of the finger. Arrows let you know if there are more choices to view, but they're so faintly colored, it's hard to tell when you've reached the end of the line. As is typical with most iPhone flower apps, there's no way to search for specific arrangements or to flag something you see as a favorite. (You can send information about a particular arrangement via email, which is an acceptable workaround for a favorites feature.)
When it's time to actually place your order, you may be better off tapping the Teleflora 800-number in the app to finish up your business over the phone. That's because entering in recipient and billing information requires a lot of tapping. For the most part, entering data into Flower Coach's fields is no more painful than other flower-ordering apps—which is to say, it's plenty painful—but Flower Coach does introduce a few unwelcome quirks. I found that after completing any field using a scroll wheel—selecting your credit card, say—the app would jerk me back to the top of the screen, forcing me to scroll back down to the next data field. When entering phone numbers, you've got to tap on each individual field—area code, prefix, and number—instead of just tapping next to enter data more seamlessly. It can get pretty annoying.
Some users will doubtlessly find amusement in Flower Coach's pedestrian note-generation tool, won't be bothered by the selection limitations, and will learn to live with the data-entry hassles. But I just can't express how much of a bother I found the whole package—if only I had some sliders at my disposal to help me articulate my disappointment.
[Philip Michaels is the executive editor of Macworld.com.]