At a Glance
Expert's Rating
Our Verdict
Editor's note: The following review is part of Macworld's GemFest 2011 series. Every day from mid June through July, the Macworld staff will use the Mac Gems blog to briefly cover a favorite free or low-cost program. Visit the Mac Gems homepage for a list of past Mac Gems.
The way we organize files is changing. Tags—keywords associated with files or other digital assets—have long been used by websites, and they're now making their way to the files on your Mac, replacing the rigid folder structure. Tags, by Mac developer CaseApps, allows you to tag anything and everything on your Mac. Tags is a satisfying and easy-to-use application.
Tags lets you tag any file or folder with an unlimited number of keywords. You tag files by pressing the default control-spacebar command key combination, which then opens the Tags window. You can create new tags or using existing tags. From the Tags window, you can see all files that have been tagged system wide. You can also edit or delete tags from any file or view any file in the Finder. All tags are processed using AppleScript.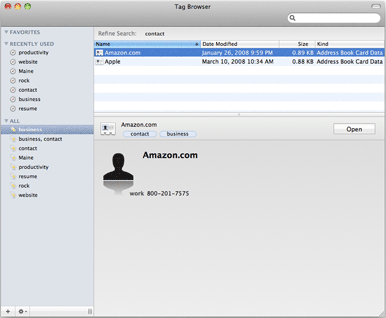 After you've tagged files, you can use the tags when you use Spotlight to search. For example, let's say that I have an Address Book entry for a hard to find customer service number for a major Internet retailer. I use Tags to tag this contact with business and contacts. When searching for business contacts in Spotlight, the Address Book entry appears in my Spotlight results even though the actual words business and contacts do not appear anywhere in the Address Book entry. The results are seamless and do not require any extra work on the part of the user.
As a standalone application, Tags has two features that stand out. The tag browser allows users to navigate between tags, while the search window is a sort of Finder for tags (and also works for other applications, too). While both features are well done, they duplicate many of Spotlight's features. Given how well Tags integrates with Spotlight, it's not really necessary to use these features, but it's nice that they are there.
Although Tags allows users to "favorite" certain tags for frequent use, it does not support any sort of tag cloud or any type of visual 10,000 foot-view of your tags. Still, this is a relatively minor gripe with an otherwise strong program.
Tags is a must-have application for anyone seeking flexibility for searching files on a Mac. Tags' integration with Spotlight and Finder works so well that you'll likely forget that Tags is a separate application until you actually tag individual files. Tagging files may be somewhat tedious, but finding files is easier with Tags.
Want to stay up-to-date with the latest Gems? Sign up for the Mac Gems newsletter for a weekly e-mail summary of Gems reviews sent directly to your inbox. You can also follow MacGems on Twitter.