Editor's note: The following review is part of Macworld's GemFest 2011 series. Every day from mid June through July, the Macworld staff will use the Mac Gems blog to briefly cover a favorite free or low-cost program. Visit the Mac Gems homepage for a list of past Mac Gems.
You've got iTunes to organize your music and iPhoto to organize your pictures. But what about your videos? Do you just let them sprawl, willy-nilly, all over your hard drive? ManyTricks's Usher attempts to bring your movies, TV shows, home videos, and more under one roof, undivided, with browsing and metadata for all.
Like Apple's own media-cataloging apps, Usher features a split-pane interface that provides a source list on the left hand and a list of files on the right. Built-in integration with iTunes, iPhoto, and your Movies folder means that you'll find Usher automatically populated with videos from those sources. You can view your pictures as thumbnails (with mouseover previews), in a list, or in a Cover Flow-style carousel, but some interfaces are better than others for certain tasks (for example, in thumbnail mode you can't drag and drop multiple files; you'll have to switch to list mode for that).
The similarity with iTunes and iPhoto doesn't end with the interface, either. Usher also provides capabilities for giving videos star ratings, organizing them into playlists and Smart Playlists, and even converting them into other formats. (Though, coupled with the excellent Perian, Usher can play back just about any file format you throw its way.) And, of course, Usher lets you play back video in a window or in fullscreen mode, although I found its fullscreen playback of a MP4 video choppier than the same video when viewed in QuickTime Player, though that may be due in part to using it on a long-in-the-tooth Mac mini. While Usher also has a remote-based interface that lets you control it from your couch—great for use with an HDTV-connected mini—it's no replacement for the media center interfaces of Plex or Boxee. I also found the format conversion slow, though again, that might in part be due to the hardware I tested on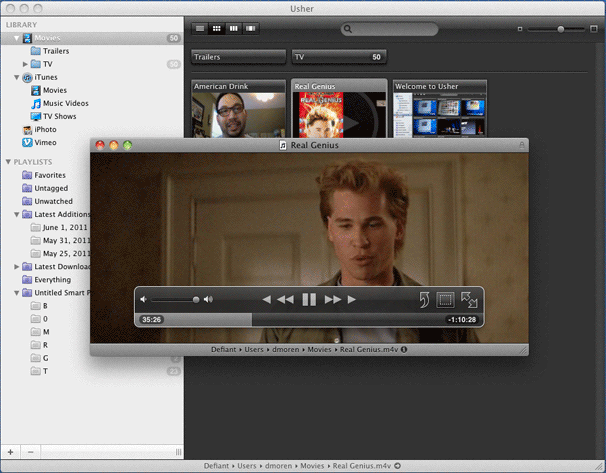 But in organization, Usher can't be beat. As you might expect from the folks behind Name Mangler, it's easy to batch rename the titles of movies into something more readable, just in case you've got a bunch of randomly-titled files; note that that won't change the actual file names, just the way they're displayed in Usher. For movies, Usher can even suck down metadata from the Web, although disappointingly, it doesn't really handle TV series at all.
The ability to create Smart Playlists based on various criteria is another of Usher's strong suits. Looking to group all your unwatched programs from the last seven days? No problem. Want a list of your favorite episodes by star rating? Sure thing. The available filtering criteria are extensive, including pretty much any metadata that can be associated with a piece, from last playback to user-defined tags.
If all Usher did was handle your existing videos, that might be enough. But we live in an Internet-connected age, and Usher reflects that by integrating built-in support for searching videos on both YouTube and Vimeo. Not only can you quickly browse through matching results, but double-clicking on any video will quickly download it to your computer, just in case you want to watch it while you're not online. Once a video's downloaded, it can be tagged and organized just like any other movies in your collection.
For those looking to bring a semblance of order to their unwieldy collection of videos, Usher is excellent at organizing the chaos. There are a few rough edges that need to be polished, including some strange UI behavior, and the addition of automatic retrieval for TV metadata would help frequent TV watchers like myself, but even without those features it remains a powerful tool.
Want to stay up-to-date with the latest Gems? Sign up for the Mac Gems newsletter for a weekly e-mail summary of Gems reviews sent directly to your inbox. You can also follow MacGems on Twitter.