The free Google Places app is everything you should expect from Google: a clean, customizable, easy-to-use method of searching your iPhone for nearby bars, bakeries, and other types of businesses.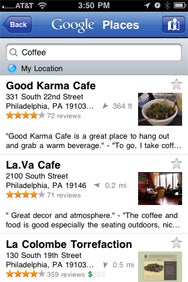 Google Places comes with a preset list of searches of business categories—the list is easily edited to reflect your preferences—and quickly displays nearby results for your queries. You can save favored results with a star, read reviews of that business from "across the web," and even contribute your own ratings and reviews. As a result, Google Places offers a wider range of opinion than the similar Yelp app, while allowing more input than the venerable Places app.
One minor complaint: Google Apps is inconsistent in how it uses maps. Search a category, and you have the option of viewing an in-app map showing all the nearby businesses of that type. If you want a closer look at the location of a particular business, though, you're whisked without warning to the iPhone's native Maps application. It's annoying to have to flip back-and-forth between apps.
But, because it draws upon the huge databases of Google itself, Google Places is still a great, useful tool for any iPhone user who ever leaves their own neighborhood.
[Joel Mathis is a freelance journalist and political columnist for Scripps Howard News Service. He lives in Philadelphia.]