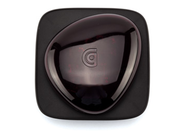 If you've ever spent a Saturday watching male figure skating because you couldn't find the remote, you may welcome the news from Griffin that its Beacon Universal Remote Control for iOS (first demoed at the 2011 Consumer Electronics Show) is now available at an Apple Store near you. Griffin's device aims to exploit the fact that while your various remotes always seem to go missing, your iPhone's usually right in your pocket.
Beacon itself is an $80 hardware device. Your iPhone, iPad, or iPod Touch communicates with it via Bluetooth, and Beacon in turn communicates with your entertainment center by sending signals to pretty much any IR device in sight. You use Beacon in tandem with the free Dijit iOS app, which employs what Griffin calls "a library of constantly updated device codes to simplify setup for your TV, set-top box, sound system, media players, and more." Beacon can control common devices like televisions and DVD players, but also more advanced equipment like a TiVo DVR, Microsoft's Xbox, or an Apple TV.
As with the Harmony line of hardware remotes, you can configure the Dijit app to switch between your devices on its own. That is, you can teach Dijit that when you want to play your Wii, it needs to turn off your receiver and set the television to a different input. The app keeps track of your devices' current statuses, so when you later tap to just watch TV, it swaps the input and turns the receiver back on—but knows not to erroneously toggle the television off.
The Beacon requires no wires or cables; it relies upon 4 AA batteries, which Griffin says should last for two months. The unit is out of stock at Griffin's website, but may be available for immediate purchase at your local Apple Store.