If there's one thing that iOS accessories prove, it's that the devices themselves—the iPhone, the iPad, and the iPod touch—are endlessly versatile. If you want to listen to music, there's an accessory for that. Make music? Ditto. Go boating? I think you already know the answer.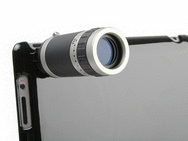 Brando WorkShop: The accessory maker lets you get closer to the action with the Super Gear Telescope (iPad 2). The device comes in two parts:a back cover that you attach to the iPad and the scope itself that attaches to the cover, right over the iPad's back-camera opening. Once attached, you can take clear photos and video from farther distances and wider angles. The $26 accessory can be adjusted to provide sharper focus.
CableJive: Sometimes the closest power outlet is a farther away than the cable for your iOS device will reach. CableJive solves the problem with the new xlSync, a 6.5-foot USB-to-dock-connector cable for the iPad, iPhone, and dock-connector iPods. The cable is USB 1.1- and 2.0-compatible and is constructed using heavier-gauge wire to allow for speedy charging over the longer distance. The xlSync costs $13 and is available in black or white.
Joby: This San Francisco firm has updated two of its tablet stands to accommodate the iPad 2. The $70 GorillaMobile Ori for iPad 2 is a lightweight aluminum carrying case that folds out into a display stand that can display your tablet at multiple angles for typing or video viewing (see our review of the Ori for the original iPad). The $40 GorillaMobile Yogi for iPad 2 features a pair of bendable, posable legs that let you prop up or even hang the iPad 2 in any location you choose. Joby says the updated models allow for hands-free use of FaceTime and other camera-driven features of the iPad 2.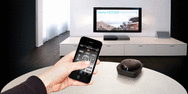 Griffin Technology: Griffin has partnered with software developer Dijit Media to create Beacon ($80), a device that lets use use your iPhone, iPad, or iPod touch as a universal remote to control the rest of the electronic devices in your home. The system requires the free Dijit Universal Remote app from iTunes; your iOS device can then communicate with your entertainment system via a Bluetooth/infared receiver. Beacon is already on sale—Griffin said this week that it sold out its initial stock on the first day of sales, but you should be able to find it at local Apple Stores. Also new from Griffin is the $20 DJ Cable, a headphone and master-output splitter cable to be used in conjunction with the Algoriddim Djay app for the iPad, iPhone, or iPod touch.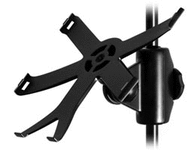 IK Multimedia: Of course, the iPad 2 isn't just used to play music—it's also an increasingly vital part of making music. IK Multimedia offers some assistance on that front with its new $40 iKlip (iPad 1 and 2), a display stand for the tablet that attaches to a musician's microphone stand. The device includes snap-in mounts for either iPad model and can be used in both portrait and landscape orientation.
Pioneer: Music lovers can check out Pioneer's new Elite series of A/V receivers, which includes five different models ranging in price from $450 to $1,100. Each model is advertised as being "made for for iPad, iPhone and iPod" and include a USB cable that allows you to connect your iOS device to play video and music through the receiver. The top four models go a step further, featuring AirPlay connectivity and letting you use Pioneer's free iControlAV2 app to wirelessly control volume, bass level, and balance. These four models are also compatible with the Pioneer Air Jam app, which allows you to sync songs from multiple iOS devices onto one playlist for the receiver.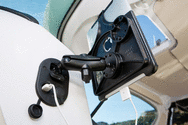 Tallon Systems: This Australia-based maker of boating accessories knows that the iPad isn't just made for use on land. The company has come up with two new products for nautical iOS users: the $70 Elite Socket, a USB port that delivers onboard power to your mobile device, and the $110 Tallon iPad Mount, which lets boaters view their tablets while, well, boating. The latter device also includes a USB port for power purposes. Both accessories will be officially launched at the Sydney Boat Show in late July.