Get your sketching fingers and styluses ready. Wacom—creator of the Bamboo Stylus, and famous for its line of pressure-sensitive tablets—has introduced its very first app for the iPad, Bamboo Paper.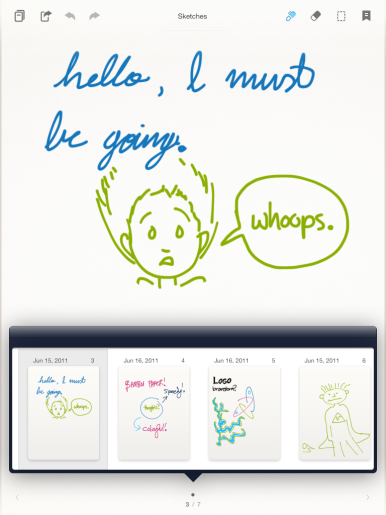 A note-taking app in the vein of Penultimate, Bamboo Paper provides you with a single Moleskine-esque sketchbook with three virtual paper types—lined, graphed, or plain—on which to jot down your thoughts. You can change these—or the color of the notebook—at any time, though you're restricted to one type of paper for all your pages, and just one notebook.
Inside the book itself, you can sketch using one of six ink colors and three line widths, erase lines with a single-width eraser, or wipe the page clean. If you make a mistake, you can undo or redo up to 20 times. The canvas is set, by default, to fill your iPad's screen in portrait orientation, but you can zoom in using a reverse pinch and use a two-finger scroll to pan around, if you'd rather.
Draw something you want to share? You can email the page as an image to someone, save the page to your Camera Roll, or print it directly from the app. You can also bookmark a specific page you're working on so that when you re-open your Bamboo Paper book, it will open directly to that page; by default, it opens to the latest page you've created. You can even tap the page count on the bottom of the screen to see an overview of the pages contained within your book.
In my short time playing around with Bamboo Paper, I'll note that it has—without a doubt—one of the fastest rendering engines for drawing that I've seen in a quick note-taking app. Writing is smooth and speedy, and while you'll still get occasional interference when using a stylus and resting your hand on the iPad's screen, once your hand is on the screen, the app ignores it and allows you to write onward with no miscommunication.
Bamboo Paper requires an iPad running iOS 4.2 or later; it will be available for free on the App Store until June 30; after that, it will cost $2.