There are any number of apps let you search for nearby businesses on your iOS device but Localscope—a $2 offering from Cynapse—offers two neat twists: aggregation and augmented reality. Unfortunately, the execution falls a bit short.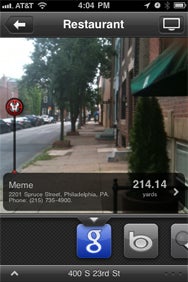 Rather than offer up its own list of neighborhood establishments, Localscope instead pulls data from five rival services: Google, Bing, Foursquare, Twitter, and Wikimapia. It doesn't gather the results into one big list. Instead, you can view the list offered by each service. (Google tended to provide the nearest neighborhood options.) But if you want more than basic information—if you want to see Google's user reviews for a restaurant—you're shifted to the Safari browser on your iPhone.
As for Localscope's augmented reality feature, all you have to do is point your phone at businesses in the neighborhood, and the app will give you the name and phone number. But this service seemed buggy: While testing the app in Philadelphia, I pointed my iPhone south—and was given the name of a restaurant two blocks to the north.
The app lets you bookmark favorite searches and results, and it's easy to share locations via SMS, email, Twitter, or Facebook. (It is odd that you can't share via Foursquare, which already has a presence on the app.) There are a lot of good ideas in Localscope. Someday soon, hopefully, the app will live up to its promise.
[Joel Mathis is a freelance journalist and political columnist for Scripps Howard News Service. He lives in Philadelphia.]