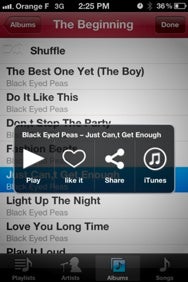 Having given iOS users a way to share app recommendations with their friends via its Frenzapp app, iOS developer Bitsmedia is now turning its attention to music.
The free iPhone app Frenzapp Music helps users share their favorite music with their friends on Facebook and Twitter and get recommendations for new songs based on what their friends like. It's a pretty cool idea—though it depends on a bunch of your Facebook friends and Twitter connections also using Frenzapp Music.
Through the app, users can post music recommendations as status updates on either Facebook or Twitter. Friends can also go through a user's profile within Frenzapp Music, where they'll find all the songs the user has marked as his or her favorites.
Frenzapp music also provides various ways to discover new music. The app takes a look at all the songs that social connections have marked as favorites. Tap a button within the app, and you'll jump to a page listing a constant stream of songs friends are listening to and liking.
Another way the app helps you look for new stuff is by using the iPhone's location features to let you scan your neighborhood for songs liked by users in your immediate vicinity. You can also take a look at the iTunes top charts and, in fact, search the whole iTunes Music Store.
Anytime you see a song anywhere within the app—whether it be in a friend's favorites list, a popular song nearby, or something on the iTunes charts—you can tap on it to bring up controls to listen to a 30-second preview of it. You can also mark it as a favorite, post it as a status update, or go to the iTunes Music Store to buy it.
Finally, the app also gives you full access to songs stored on your iOS device, including playback controls. Needless to say, it also allows you to do the usual "liking" and sharing of songs from within the playback interface.
The challenge with crowdsourced apps is that they depend heavily on having a crowd. When I took Frenzapp Music out for a test spin, only one of my friends was also using the service, making it hard to get a feel for how well the recommendation system works. The potential is there for a pretty useful app—with any luck, the users will be there as well one day.
Frenzapp Music runs natively on the iPhone and iPod touch; it requires iOS 3.0 or later.