With California Blooms, you can order any flowers you want, so long as they're roses.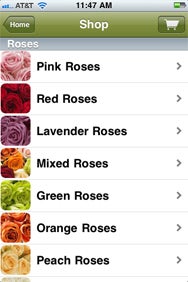 I don't mean that to sound like a criticism. In fact, the purposefully restricted selection turns out to be something of a strength for the app from California Blooms. Where other iPhone flower-ordering apps involve a seemingly endless series of taps as you jump back and forth between categories and specific arrangements, California Blooms presents a neat, orderly, scrollable list of what's available. You're choosing which color of rose to order—or whether you want a mixed assortment—and that's it. Some users may find that limiting, but it certainly takes a lot of the hassle out of navigating your way through the app.
Pages for individual arrangements let you select the size of the bouquet, and whether you want to include a vase. You can't flag a particular arrangement as a favorite, though California Blooms does offer an Email Item button for forwarding along information about a bouquet. The app also saves previous orders for later reference.
As problematic as shopping flowers on the iPhone can be, the ordering process—with its multiple fields and interface quirks—can be truly nightmarish. California Blooms makes an effort to take some of the agony out of ordering, however. The app includes a progress bar, so you can at least see where you are in the process. When selecting a delivery date, the app brings up a calendar that makes it very clear when California Blooms can and can't deliver your flowers. (It also spells out any extra charges, such as for Saturday delivery.) The app integrates with the Contacts app, so you can import delivery information with a tap. You'll still have to tap out some information, but it's clear that whoever designed California Blooms put some thought into simplifying orders wherever possible.
If California Blooms falls down on the job, it's after you've placed an order. California Blooms was one of four flower-ordering apps I've tested recently—it was also only one to not send a confirmation email after I placed an order. Confirmations not only let you know your order hasn't disappeared into the ether, they also give you a point of reference with the company in case there's a delivery problem. Not getting an email from California Blooms caused a considerable amount of worry. (The company did send me an e-mail a few days after I placed my order to let me know that my flowers were shipping.)
While a lot of competing apps for the iPhone suffer from navigational flaws and design mistakes, California Blooms comes the closest to delivering a great flower-ordering app. If you're only looking to order roses and you're not bothered by spotty confirmation emails, this app is a solid choice when it's time to say it with flowers.
[Philip Michaels is the executive editor of Macworld.com.]