The OfficeTime time-management desktop app has been upgraded with more than 100 improvements—and an eye on expanding its capabilities to the iPhone and iPad.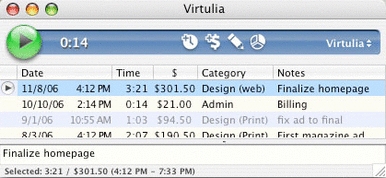 OfficeTime is a time-tracking software program aimed at business users who bill clients on an hourly fee schedule. The version 1.6 update unveiled Monday lays the foundation for upcoming companion apps on the iPhone and iPad, with syncing support for those devices; a date to launch the mobile apps has not yet been announced.
Other prominent upgrades include a new automatic backup feature to save data, as well as improved export to the Excel and Numbers spreadsheet programs. The program also offers iCal syncing to provide a quick overview of the day's work, instant invoicing, and tools to track the working time of teams of employees.
OfficeTime costs $47—though the updated is free to current users. It is compatible with Macs running OS X 10.6.