There are hundreds of calendar and task management apps available for the iPad. Some are very sophisticated, assuming not only a familiarity with but an enthusiasm for Getting Things Done. Others, like Apple's built-in Calendar app, provide more traditional daily, weekly, and monthly views of events, which you can enter as individual or recurring functions. And some are more oriented toward task completion, with a focus on checklists.
Smart Pad 2.0, an iPad-only app from Left Coast Logic, combines the best of these approaches, allowing users to easily switch between day and month views, or side-by-side views of a day's schedule along with a list of tasks, notes, projects, or a history of completed tasks. A slider at the bottom of the screen enables you to move easily between days of the month and months of the year, while tabs at the top of the screen facilitate navigation between other views.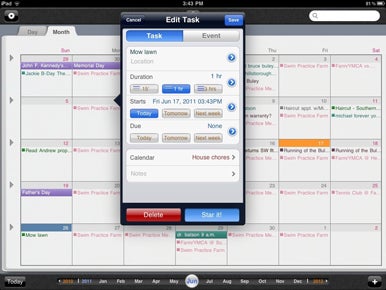 The app accommodates custom, color-coded calendars (work, home, school, and so on). You enter a new task or event by tapping a plus sign (+) at the bottom-right corner of the screen, or by tapping on the calendar directly; a box then appears, prompting you to enter the title and location of a task or event, its duration, start time, and due date, notes, and pop-up reminders. The app enables you to time tasks, as well.
You can move tasks and events around by dragging-and-dropping within a day's or month's schedule, or by re-entering information in the task/event's pop-up box. The app also enables you to directly sync with the iPad's Calendar and with Toodledo.
Smart Pad stands out among calendar apps because its power lies in its flexibility and in the level of detail it allows for. It's easy to imagine different users using the app in very different ways—and doing so effectively.
[Jeff Merron is a freelance writer and editor living in North Carolina.]