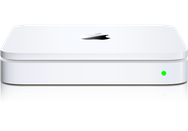 Apple on Tuesday released new models of Time Capsule, its combination backup drive and wireless base station. The new Time Capsules are available in 2TB and 3TB capacities—previously, Time Capsule had topped out at 2TB.
Time Capsule connects to a wireless network, allowing users to back up Macs on the network via OS X's Time Machine feature. The Time Capsules also include a Gigabit Ethernet WAN port and three Gigabit Ethernet LAN ports, as well as a USB port for connecting a printer or external drive.
The new Time Capsules still use the 802.11n Wi-Fi networking standard, with dual-band operation available for 802.11b/g devices like the iPhone and iPod touch. Other than the boosted hard drive capacities, it doesn't appear the new Time Capsules score any new features.
The 2TB Time Capsule costs $299 while the 3TB model sells for $499; those prices are unchanged from the previous 1TB and 2TB offerings, respectively.