Hipmunk launched its flight and hotel search service last year with an eye toward taking some of the pain out of booking travel. Now the company is hoping to do the same thing for iPad users.
On Tuesday, Hipmunk updated its iOS app to add iPad optimization. Previously, Hipmunk Flight Search had only run natively on the iPhone and iPod touch.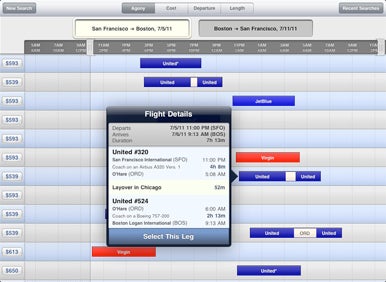 A competitor to travel sites such as Kayak, Hipmunk looks to stand out from the crowd by sorting its search results using something called an Agony index—a combination of flight length, the number of layovers, and the price of the flight. (Hipmunk users can also sort flight results by price, duration, and departure and arrival times, if they prefer.) The website's hotel searches sort results by "Ecstasy," which reflects reviews, amenities, and price; Hipmunk also presents hotel search results on a map with overlays showing nightlife and tourist attractions in the vicinity of the hotel.
"We're all pretty avid travelers," said Danilo Campos, Hipmunk's mobile developer. "We're building tools that we want to use."
That appears to be the motivation behind the new iPad incarnation of Hipmunk's app, which is a streamlined version of the Web experience. Tap in your destination and your travel dates, and Hipmunk Flight Search churns out a page of results laid out in a Gantt chart-style view. By default, the results are sorted using Hipmunk's Agony ratings, though tabs let you sort by cost, departure, and length. Sliders at the top of the chart also let you filter out results you don't care to see—redeye flights, say, or early-morning departures.
When it's time to book your flight, the Hipmunk app lets you jump to either the airline's website or to Orbitz in your iOS device's Safari app. If you don't like tapping in your credit card information on an on-screen keyboard, though, Hipmunk also provides you with a finish.hipmunk.com URL and a code—use it the next time you're at your desktop or laptop to book your flight from there.
"We want to take this thing that's not very fun… and make it easier, make it something you can have a good time with," Campos said.
In addition to adding iPad compatibility, the 1.1 update to Hipmunk Flight Search also features a new, streamlined interface for iPhone and iPod touch users. The changes are aimed at making it easier to set up searches on those devices.
For now, Hipmunk's iOS app focuses only on looking up flight information, omitting the hotel search capabilities offered via its website. The iOS app also only looks up round-trip flight data—you can't search for multiple destination trips at this point. But that capability is in the works, Campos said, as is a hotel search offering.