Fetch Softworks, which makes the Fetch FTP client for Mac OS X, has come out with Roadshow, a new iPad app that allows you to save web videos for viewing later, even when the device is offline. The free, ad-supported app imposes a limit of up to 15 saved videos; a $5 in-app purchase removes that limitation (as well as the advertising).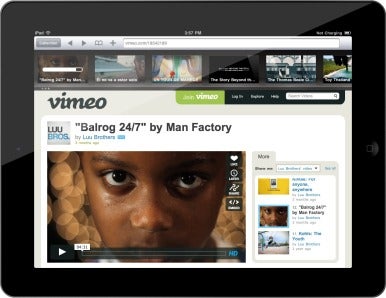 Roadshow includes a built-in browser with a list of bookmarked websites to get you started. Visit any of those sites, or enter a URL of your choice in the address bar, and the app adds any videos it finds to a Found Videos shelf at the top of the browser window. Tapping on any of those videos adds them to your collection.
Once in your collection, you can play the videos immediately via streaming or have them saved locally for later viewing. Roadshow supports AirPlay, so you can watch your videos on your television through an Apple TV. It also allows you to share links to your favorite videos on Twitter or send them via email.
If you have a webpage open in your iPad's Safari browser that you'd like to view in Roadshow, you can copy the URL from the address bar and then launch RoadShow; the app will then prompt you to open that URL within it. Alternatively, you can edit the URL in the address bar in Safari, prepend "rs:" to it, and then tap return. This will take you to Roadshow and open the URL within the app.
The app does have an important caveat: due to a restriction in the YouTube terms of service, Roadshow is not permitted to save videos from that website. That said, it does support many other major providers of web video, such as Vimeo, MSNBC, Funny or Die, TED Talks, and CollegeHumor, to name just a few.
Roadshow is a free download from the App Store and is compatible with all iPads running iOS 4.3 or later.