Editor's note: The following review is part of Macworld's GemFest 2011 series. Every day from mid June through July, the Macworld staff will use the Mac Gems blog to briefly cover a favorite free or low-cost program. Visit the Mac Gems homepage for a list of past Mac Gems.
One of the biggest draws of social media is its ability to seemingly connect you with anyone at any time. Yet it can be easy to lose track of everything when you're talking to so many different people on Facebook, Twitter and email. Social Clipboard ( Mac App Store link), by Agile Route Software, aims to remedy this problem by making it easier to share content across all your social profiles at once.
Social Clipboard is a sort of super clipboard that allows you to post copied text, photos and HTML code to Facebook, Twitter and Dropbox. After authorizing Social Clipboard to interact with each account, you select what you've copied and then paste it to the each site. For example, photos uploaded to your Facebook profile are placed on your wall and a special Social Clipboard photo album.
If you think of Social Clipboard as a super clipboard, you begin to see its value—it can be a time saver. Social Clipboard cuts down on the amount of time you need to repost content to Facebook, Twitter, and also Dropbox if you want to email a link to someone. In the past, you had to copy and paste text on each website. Social Clipboard allows you to post to all three sites at once.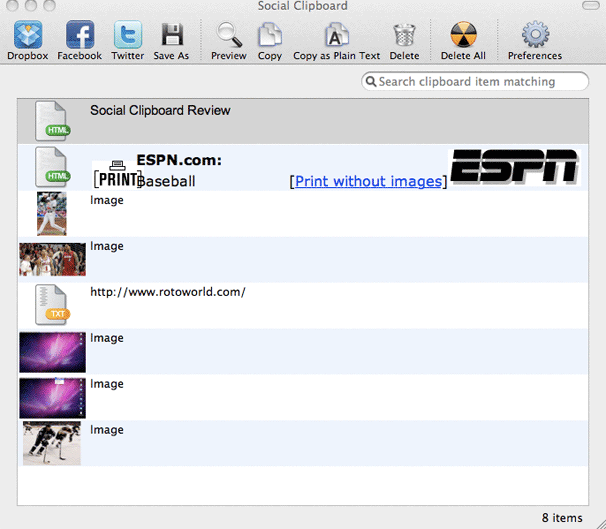 Social Clipboard includes one major drawback: it only supports one account type for each of its three supported websites. While most people only have one Facebook and Twitter account, it is nonetheless disappointing that an application designed to share content would limit its users in this way. Support for multiple accounts is becoming more prevalent in other social media applications and is simply a must have feature. Its omission here is disappointing.
Social Clipboard complements the OS X clipboard by adding a social element to the normally mundane task of copying things. While it does have some limitations, Social Clipboard offers social users an easier way to share content across the sites they frequent most.
Want to stay up-to-date with the latest Gems? Sign up for the Mac Gems newsletter for a weekly e-mail summary of Gems reviews sent directly to your inbox. You can also follow MacGems on Twitter.