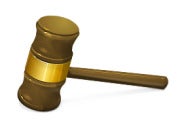 Back on June 9, Apple filed a motion seeking to intervene as a defendant in Lodsys's patent infringement lawsuit against various iOS, Mac, and Android software developers. The court has yet to rule on Apple's motion, and now may take even longer: Lodsys on Tuesday filed an "Unopposed Motion For Extension of Time to respond to Apple Inc.'s Motion to Intervene."
Apple's June 9 filing required a Lodsys response by June 27. Lodsys's original motion sought to extend that date by two months, to August 27. Later Tuesday, Lodsys issued an updated filing, asking for only a one month extension to July 27—stating that the first extension request was filed in error. According to Lodsys's filing, "[t]his extension is not for purposes of delay." What's more, the patent-holding company says that it "conferred with counselor for Apple and Apple does not oppose the relief requested herein."
In its motion to intervene, Apple cited the same argument it spelled out in a May letter to Lodsys; chiefly, Apple believes that its license to the Lodsys patents extends to its App Store developers.
Lodsys's declaration that "Apple does not oppose" the patent holder's request for an extension may be insignificant—but of course it may not be. Anti-patent advocate Florian Mueller, who first reported on Lodsys's latest filing, hypothesizes that Lodsys's request for more time, coupled with Apple's failure to object, might mean that the companies are negotiating in secret towards some sort of settlement. Both companies, of course, are tight-lipped on the matter; neither responded immediately to Macworld's request for comment.
Updated at 11:53 a.m. PT to reflect Lodsys's updated filing seeking a one month extension instead of a two month extension.
When you purchase through links in our articles, we may earn a small commission. This doesn't affect our editorial independence.