Discovering new podcasts is often a matter of serendipity—a recommendation from a friend, a mention in a blog. iCatcher, a $2 app for the iPhone and iPad from Joeisanerd.com, beats similar offerings primarily by making it so easy to search for podcasts you never knew existed.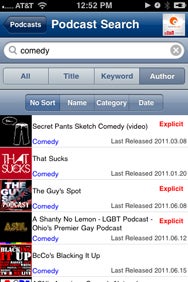 Like the native iTunes app on iOS devices, iCatcher lets you download or stream podcasts on your mobile device using 3G or Wi-Fi. And like Podcaster—probably this app's closest competitor—iCatcher lets users easily search for obscure podcasts outside range of Top 10 offerings like Radiolab, combing through RSS feeds and non-Apple podcast sites like Podcast Alley to help you find what you're listening for.
But iCatcher goes a step further with a variety of options to sort your search results—by name, creator, category, and the date of the last episode's release. And if it's been awhile since a podcast has been updated, iCatcher will warn you if you decide to subscribe. (iCatcher's other advantage? It runs natively to the iPad.)
One minor flaw: there seems to be no way to download a single episode of a podcast. If, say, you want to listen to the famous "Giant Pool of Money" episode of This American Life, you have to subscribe to the entire podcast series—you can't just download that episode. That's not a huge problem: it's quite easy to unsubscribe from a podcast as well.
Mostly, though, this app a gem. For the total experience of discovering, organizing, and listening to podcasts, iCatcher is tough to top.
[Joel Mathis is a freelance journalist and political columnist for Scripps Howard News Service. He lives in Philadelphia.]