It's only been on the Mac App Store for a few days, but Final Cut Pro X has already stirred up a whole messy pot of controversy. Despite its status as the top paid and top grossing app in the store, the program has dropped to a measly two-and-a-half star user rating, with more than 200 one-star reviews. Professional editors by and large have mixed feelings on the software, and for good reason: Many key features from Final Cut Pro 7 are missing. You can't import projects from previous versions. There's no way (without paying a hefty sum on third-party plugins) to export audio to ProTools.
And yet, I couldn't be happier about the new version of Final Cut.
Once again, Apple has stripped every non-essential bit from the video editing process and reinvented it from the ground up. The company did it in 1999 with the original Final Cut Pro, when the film industry believed a non-linear editor had to involve software and bulky hardware in a package that cost tens of thousands of dollars. Apple employee Randy Ubillos did it in 2007 with iMovie '08, wanting a faster way to edit home movies. And now, Apple has taken a decade's worth of knowledge and again asked the question: "How can we make this better?"
Remembering iMovie '08
"What do you think of the new iMovie?" It was 2008. I was standing in front of an iMac in the Holyoke Apple Store, in the midst of a conversation with a man who I hoped would give me a job at the store helping customers learn how to use their computers. I had flown through most of the interview, but now he had just asked me the one question I didn't think I could answer honestly. Because I hated the new iMovie.
I grew up making films on my dad's camcorder. I got out of essays and presentations in high school by cutting together videos ("How Star Wars represents a democracy" remains a personal favorite). I practically lived in my high school's editing lab. And, from the time I'd gotten my very first Bondi blue iMac right up until my senior year of school, I'd done it all in iMovie.
By 2008, though I'd long since moved to Final Cut for school and editing jobs, I still used iMovie HD for most basic projects. It was my editing utility knife—sure, it had a myriad of problems and patch-together solutions, but it was mine. And then Randy Ubillos had to go and tear it all down, leaving me furious.
But here's the thing: While I was too stubborn to acknowledge it at the time, iMovie wasn't for me, or any other intermediate-level editor who had clung to it rather than pay the price—both mentally and literally—to switch to another program. While we could make do with years of learned iMovie cheats and tricks, brand-new Mac users found the program bulky, cumbersome, and unintuitive.
And Apple knew it. Rather than target in on any one niche, the application had become a giant patch, trying to cover holes in 15 different user workflows. If Apple angered its current userbase, well, then, so be it—but the company needed to pare down and start over. So it decided to focus on the everyday Mac user—one who had never heard the term "non-linear editing" before—and how to provide them with the tools to create something quickly and easily.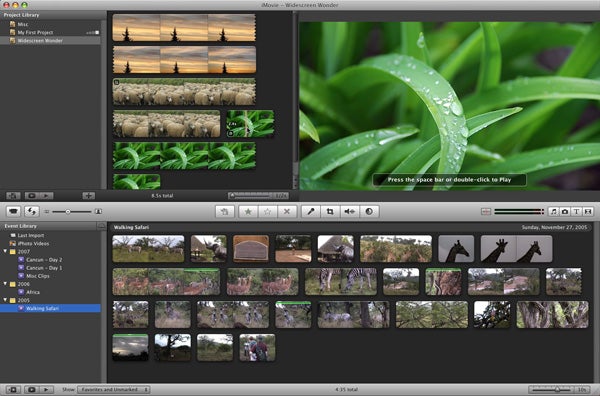 It worked. In the year after I got the Apple store gig and started teaching customers, I witnessed something I'd never seen before: a 65-year-old grandmother who, before coming to the shop, had never even used a digital camera—cutting together family reunion footage like she'd been doing it her whole life.
It's not dumbing down, it's targeting
Some people will read the above story and insist that yes, just like iMovie, Final Cut is getting dumbed down, and that Apple doesn't want to service professional users anymore. If you're reading it like that, however, I don't think you're reading at all.
Final Cut launched in 1999 as the editing industry's scrappy upstart: "Professional video without hassle or high costs." Thousands of dollars cheaper than its closest competitor, designed to import natively from DV cameras, a "post-production studio-in-a-box." There's no question from Apple's 1999 marketing who the company was targeting. Final Cut Pro was never supposed to be about $200,000 editing rig studios and Hollywood glam: It wanted the upstarts. The rebels. TV stations, independent filmmakers, students. If the Avid-entrenched industry wanted to hop on board, well, fantastic—but the program wasn't for them.
Somehow, down the line, this philosophy veered. Professionals came on board, needed features, and Apple accommodated them. Final Cut Pro gained siblings left and right: DVD Studio Pro, Compressor, LiveType, Soundtrack, Motion, Shake, Color. It bloated in both size and price, becoming Final Cut Studio. Basic bugs—like keeping a timeline in sync—would go untreated for years. Amateurs and students interested in learning Final Cut resorted to piracy, rather than pay the full price for either the Studio or its $300 "light" sibling, Final Cut Express.
Apple needed to reevaluate the program: who it was for, where it was going, and most importantly, how it was going to get there. To do so, it had to shut the door, have a seat, and start from scratch.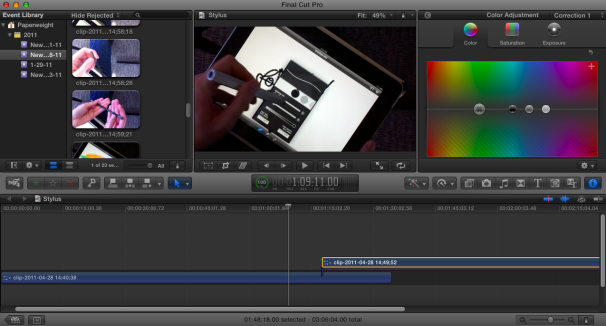 When it comes down to it, Final Cut Pro X isn't about alienating professionals: It's about finding out just what a "professional" looks like in this day and age. That line has blurred tremendously in the last decade thanks to widely-available—and inexpensive!—personal technology. Filmmakers are putting together features for $11,000. TV crews have gone digital; and that's not even covering the amount of video created every day on the Web.
Apple thinks it's found a better way, and the company's rolling with it, no matter how many vitriolic one-star Mac App Store reviews Final Cut receives. And there will be many—it's a 1.0 product, it has bugs, it has problems. Editors who used the application in the past will likely run into problems with their workflows, and complain about those, rather than the improvements. It won't matter that we've had problems with clip collisions and sync for years—Final Cut Pro X's system is different, and people are going to focus on that rather than the issues it solves.
Am I a little frustrated that Final Cut Pro X has cut and changed a lot of features I used to rely on? Sure. But I'm more excited to see where Apple goes with the application, and there are plenty of in-between solutions in the meantime. Like the beginnings of a new relationship, the company has tossed out the baggage and is starting over.
And it's shipping. Apple's feedback group has immediately widened from its engineering team and a handful of beta testers to thousands of customers. Those Mac App Store reviews may be mean, but I wouldn't be surprised to find out that there's someone on the Final Cut engineering team scouring every last one of them and making notes.
And… action
There will be those who may never again use Final Cut. And that's OK. If the software doesn't work for you, find something else. There are, after all, other options. And though Apple has no plans to actively support Final Cut Pro 7, you can still use it side by side with this new version—just as many intermediate editors stuck with iMovie HD—until it either advances to your liking, or you decide to switch.
But I think the majority of editors will embrace Final Cut, after Apple spends the time to fix what it needs to. (It always does, even if it takes awhile.) And once that happens, I can't imagine Final Cut Pro X as anything other than the poster child for the next decade of the editing industry.
Truth be told, when it comes to changing an industry, the company has a pretty good track record.
[Serenity Caldwell is a Macworld staff editor and a former non-linear editor.]