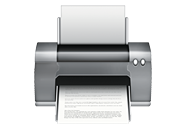 How do you follow up a day that saw the release a new version of Final Cut Pro as well as stealth updates to the Time Capsule and AirPort Extreme Base Station product lines? If you're Apple, you roll out a couple of printer drivers aimed at hardware from Epson and Lexmark.
Epson 2.7 Printer Drivers installs the latest software for both printers and scanners from Epson. The 961.5MB download requires Mac OS X 10.6 or later. The driver release notes include a list of supported devices.
Likewise, Lexmark 2.5 Printer Driver installs new software for Lexmark-built printers and scanners—you can get a list of supported devices in the release notes. It's a 147.5MB download that also requires Mac OS X 10.6.
The driver downloads are available from Apple's Support site or via OS X's Software Update feature.