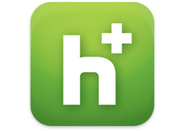 Video streaming service Hulu is expanding its reach to Android, but the app only works on six smartphones so far, the company said in a blog post this week.
The compatible smartphones are the Nexus One, Nexus S, HTC Inspire 4G, Motorola Droid II, Motorola Droid X, and the Motorola Atrix. But owners of other models should not start panicking. Hulu expects to increase the number of compatible smartphones and will be making additional device announcements throughout the year, it said. The app already works on the iPhone.
The free Hulu Plus app is available for download from Android Market, and once installed, Hulu Plus subscribers can watch current-season episodes of TV shows from ABC, Fox, and NBC, as well as episodes from classic series such as X-Files and Arrested Development.
Hulu Plus costs $8 per month, and new users get one week of free access to try the service.
Comments to the blog post are somewhat mixed: one person wonders why there is no support for Android-based tablets Motorola Xoom and Samsung's Galaxy Tab 10.1; another wants to watch TV shows when offline; and there is also a plea for Windows Phone 7 support.