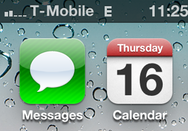 Although only AT&T and Verizon officially support the iPhone in the U.S., it turns out plenty of enterprising customers have gotten their phones working on T-Mobile's network, too. T-Mobile confirmed to Macworld on Thursday that it "does have more than one million iPhones on its network today." T-Mobile's million iPhone milestone was first reported by 9 to 5 Mac.
Until recently, using an iPhone on T-Mobile meant you needed to jailbreak your phone—voiding its warranty—and then pop a T-Mobile SIM card into it. The iPhone 4 requires a micro-SIM card, so folks using Apple's latest handset needed to take the extra step of cutting a full-sized SIM down to micro-SIM size. And even after all that, iPhone users remain at a disadvantage, speed-wise, as T-Mobile's 3G data network operates at an incompatible frequency from the iPhone's radio, leaving those users stuck on EDGE.
The situation changed slightly when Apple began selling unlocked iPhone 4s to U.S. customers earlier this month. Customers willing to pony up the $649 fee for a 16GB unlocked iPhone (or the $749 fee for a 32GB iPhone) can now get their phones working on T-Mobile's network without jailbreaking. Unfortunately, though, even though the approach doesn't require hacking your phone, you still have to hack your full-sized SIM to micro-size, and the unlocked phones still won't get 3G data speeds. T-Mobile told Macworld that the company still "has not announced any plans to offer a micro-SIM."
It's impressive, then, that despite those barriers to entry, more than one million folks have taken the plunge to get their iPhones on T-Mobile's network. Whether Apple will start selling official T-Mobile iPhones, or AT&T will be successful in its attempt to acquire its smaller rival carrier, we don't yet know. But if either development occurs, we can expect that million-strong number to increase, and fast.
Updated 1:56p.m. PT to reflect that the story was first reported by 9 to 5 Mac.