This week's roundup of iPhone 4 cases features more nostalgia, more luxury, and more odors. Intrigued? Read on.
Bracketron: If you're planning a long bike ride, but want your iPhone to be in easy reach, you might check out Bracketron's $40 All-Weather Soft Case Bike Mount. The device comes in two pieces: a clamp that attaches to the bicycle, and a weather-resistant case that snaps onto the clamp. Bracketron says the device can help cyclers monitor their speed and other data using the iPhone's Maps app or other bicycling apps.
Case-Mate: Sometimes you need an iPhone case that's both luxurious and capable of surviving a launch into space. Case-Mate's new limited-edition Titanium case for the iPhone 4 fills the bill on both fronts. A lot of engineering know-how goes into the production of this device: each single-piece case is machined from a block of titanium. You'll also need some engineering know-how—the Titanium comes with a small tool kit needed to assemble the case around your phone. The $300 case will be available for order on June 27.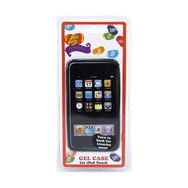 Cygnett: You can't accuse this Australian company of thinking small: It has announced a line of 13 new case models for the iPhone 4, ranging in price from $15 to $40. The line includes the AeroGrip, AeroGrip Edge, Aerosphere, Arcade, Boston, Imperial, Manhattan, Milan, Nomad, Tactile, Transition, UrbanShield, and WorkMate Pro. Each model includes a screen protector and micro-fiber cleaning cloth.
ESI Cases: The iPhone 4 appeals to three of the five senses—you can see it, you can touch it, you can hear it. But can you smell it? Now you can—ESI has partnered with Ronald Reagan's favorite candy maker, Jelly Belly, to produce a line of cases with a sugary smell. Each $15 Jelly Belly case is available in Strawberry Cheesecake, Very Cherry, Blueberry, Licorice or Berry Blue "flavor" and can be found at F.Y.E, Hudson News, and ShopKo stores.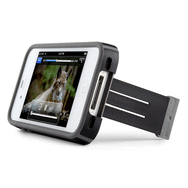 Speck: This California accessory maker has introduced the $40 CandyShell View, a hard-shell case with a retractable kickstand on the back to facilitate hands-free reading and video viewing. The case comes with a rubberized interior and button covers to absorb the shock of bumps or drops.
USBFever: Last week, we told you about USBFever's cases made to look like old-school cameras and videogame controllers. The company keeps up the nostalgia trend with a few more offerings. The Retro Calculator Case is exactly what it sounds like: a protective iPhone cover that resembles the adding machine your parents used to do their bills in the 1980s. USBFever also has two models of the Retro Radio Case (creme and green), designed to look like tiny AM radios that were popular a long, long time ago. Each retro case is $23.
16GB iPhone 4 (GSM, AT&T)
32GB iPhone 4 (GSM, AT&T)
iPhone 4 16GB Black (CDMA, Verizon)
iPhone 4 32GB Black (CDMA, Verizon)