If you're revving your engines in excitement for Pixar's Cars 2, you may find a nice detour in Cars 2: The Video Game, developed by Avalanche Software and released this week by Disney Interactive Studios. If you somehow haven't heard of Cars, here's all you need to know—it's an animated movie franchise based on talking cars.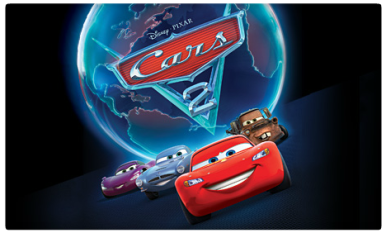 In the upcoming sequel, race car Lightning McQueen and his rusty tow truck pal Mater head abroad so that McQueen can compete in the first World Grand Prix. Mater, however, gets himself involved with a top-secret espionage mission and must help international spy cars Finn McMissile and Holly Shiftwell save the world. Cars 2: The Video Game focuses on this spy world, mixing it with a dash of Mario Kart-esque racing.
I had the chance to try out the game's Mac version and found it decently entertaining, though it's definitely targeted toward the elementary and middle school crowd. It would be perfect for young boys and girls who love the movie, cars, or racing games in general.
Cars 2 kicks off with a cutscene, like any good movie-based game should: A villain and his gang have trapped Finn McMissile, and Mater has been sent to rescue him. Soon enough, it becomes clear that this is part of a mission simulation at C.H.R.O.M.E., the Command Headquarters for Recon Operations and Motorized Espionage, an international spy-training center for—you guessed it—cars.
The game itself takes place entirely within the C.H.R.O.M.E. Holodome simulator, where players train to become world-class spies through a series of missions. Players can choose from one of more than 30 different cars to personify; included in that roster are familiar faces from the movies as well as new characters designed specifically for the game. Each car has a paragraph describing his or her personality and background, along with a ratio of power to speed and a designated weight class. The options alone are enough to excite a young four-wheel enthusiast.
There are three gameplay modes to choose from—six mission levels, free play, or multiplayer (up to four players). To unlock any of these, though, you'll need to play through a training session on the racetrack. The training is simple to understand, though a bit overdrawn for an adult. It's hard not to succeed.
Luckily, once you get on the track, it's not all about making turns. The cars all have special skills, which keeps the game from getting dull for older players; you can drive backwards, sidestep left and right, jump, drift, look backwards, fire weapons at opposing cars, and drive at turbo speed.
It's easy to get sucked into the movie's world after only a few rounds, as the missions, design, and voice and sound effects envelop players in the Cars 2 universe. There's also no shortage of unique locale; racetracks and battle arenas span the globe from Japan to Italy. Beyond the video game itself, players can connect for free to World of Cars Online, the movie's virtual community, for social gaming options.
Cars 2: The Video Game is rated E-10+ and is available from most major retailers for $30. Though we looked at the Mac version of the game, you can also buy it for your PC and Nintendo DS; there's also a $50 version of the game for Xbox 360, Wii, or PlayStation 3.
[Alexandra Chang is an editorial intern for Macworld.]