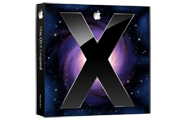 Security is increasingly on the mind of many a Mac user, and Apple's latest security patches for Mac OS X Leopard and Mac OS X Snow Leopard patch a variety of holes that could be exploited by unscrupulous folks. Alongside the Mac OS X 10.6.8 update released on Thursday, Apple also provided Security Update 2011-004, which brings some of the same patches to Leopard, as well as fixing some Leopard-specific security bugs.
Between the two updates, Apple patched 28 bugs in systems ranging from AirPort to MobileMe, QuickTime, and subversion. While many of the bugs fixed in Leopard have been addressed in previous updates to Snow Leopard, a handful affect both versions of the OS; Apple's Knowledge Base document also addresses some Snow Leopard-specific bugs patched in 10.6.8.
Of course, the one thing Leopard doesn't benefit from is Snow Leopard's malware detection system, which was updated in 10.6.8 to catch more versions of the Mac Defender Trojan horse. Leopard users will instead have to rely on a combination of third-party antivirus software and common sense to defend themselves from the malware.
Security Update 2011-004 is recommended for all users of Mac OS X Leopard, and requires Mac OS X Leopard 10.5.8 or later. For users of the OS's client version, a 256.4MB download is available via Software Update or Apple's support download site; Leopard Server users can download a 499.8MB update via Software Update or Apple's site.
When you purchase through links in our articles, we may earn a small commission. This doesn't affect our editorial independence.