The iOS platform is home to a diverse array of games. Some, like Infinity Blade, Dungeon Defenders and Aralon, are the sort of thing that wouldn't look out of place on a "proper" handheld or console. Others, like Bejeweled Blitz, Tiny Wings, and the ever-present Angry Birds, are designed for quick-fire play sessions while you're commuting or on the toilet.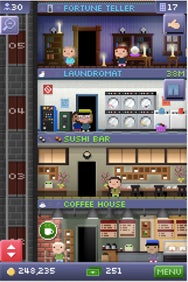 The latest game to join the latter category is Tiny Tower from Nimblebit, whom you may know from their past title Pocket Frogs. Casting the player in the role of the manager of a pixeltastic soon-to-be skyscraper, the player's job is to build the tower as high as possible and make as much money as he or she can. There's no final goal, besides hunting down all the Game Center achievements, and it's the kind of game that can engage you for either a few minutes or hours at a time.
Unlike Maxis' Sim Tower, a game which many have compared it to, Tiny Tower focuses on the lives of the people within the building. Moving in residents allows you to staff various types of commercial floor, with up to three staff members allowed per unit. Different people have different skills, offering discounts on restocking products and, if you put a resident into their "dream job," a significant bonus on the amount of stock you can hold at once. To further add to the voyeuristic fun of the game, you can spy on what your residents are thinking via the in-game "BitBook" social network — a heavily-pixelated version of Facebook's news feed.
The most interesting thing about Tiny Tower, though, is that it's free. Following the model of many successful Facebook games, Tiny Tower features two currencies. The basic in-game currency of Coins is used for purchasing new floors in the tower as well as stocking the units with products, while the premium currency of "Tower Bux" is used for accelerating lengthy processes such as restocking and constructing new floors, both of which can take several hours of real time. Tower Bux can also be spent on Coins as a means of making more money.
The twist on the usual format is that you don't have to pay any money for this premium currency. Unlike most other games of its ilk, Tiny Tower regularly rewards the player with free Tower Bux for completing simple tasks such as locating a specific resident (a task which gets significantly more difficult as your tower and its population expands) and delivering visitors to the correct floor in the lift.