As the summer heat arrives, I'm already thinking about the fall, when the cycle of nature returns us to more comfortable temperatures. It's also the time when Apple tends to release new version of iTunes—generally when Apple unveils new iPods, and iTunes gets updated with a handful of new features, as well as for compatibility with the new devices. iTunes 10 saw the light on September 1, 2010; iTunes 9 was unveiled on September 9, 2009; and iTunes 8 a year earlier to the day.
This year, the fall will see the release of iOS 5, and iCloud, and a new version of iTunes (currently called 10.5 in developer releases, but perhaps iTunes 11 when it rolls out publicly). It will finally offer some Wi-Fi syncing with iOS devices, but here are some small tweaks I'd like to see in a future version of iTunes. (You may want to look back at a similar article I wrote last year, where I looked at big features—none of which, alas, has seen the light of day.)
1. Add a label tag
I buy a fair amount of music because of the labels that release it; this is especially the case for indie classical labels. I would like to be able to add label name information to my tracks in iTunes. You can certainly use the Comments field, but many people (including me) use that for other information. iTunes could add a Label tag, which is indirectly part of the ID3 music file tagging specification: you could use the Publisher tag to store the name of a label.
2. Add a Column Browser button
The iTunes Column Browser is a powerful way to manage music in your iTunes library. But in my experience, most iTunes users aren't aware of this useful tool. It would be practical if there were a button to show or hide the column browser, somewhere at the bottom of the iTunes window. People would click out of curiosity, and discover the most powerful way to browse their music.
3. Allow for label searches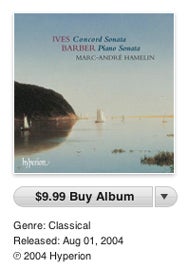 I would love to be able to search by label in both the iTunes Store and in my iTunes library. If a Label tag were available, then a search by label should be possible. This is especially useful for fans of indie labels in any genre who would like to be able to find music from their favorite labels more easily. The iTunes Store already has the label info, so they simply need to pipe it into a searchable tag.
4. Allow sub-genres and multiple genres
iTunes lets you choose the genre of your music, but some genres are too broad. Is Jazz or Classical really sufficient? You may want to have Jazz – piano trio, or Classical – opera. Sure, you can enter your own genres; just type them in the Genre field. But if iTunes correctly managed sub-genres, you would be able to sort by both the main genre and its children.
Also, some music doesn't easily fit into a single genre; being able to have multiple genres can be useful for those who have a lot of outlier music, and want to be able to find it in more than one way. Is Bob Dylan folk or singer-songwriter? Is Phish a jam band or a rock band? Is Brian Eno's music alternative, electronic, ambient, or something else? Multiple genres would let you use multiple classifications for each of these artists. Again, you could create a genre that combines several into one, but that's a poor workaround.
5. Allow ePub reading in iTunes
While I don't necessarily want to read ebooks on my Mac, I would sometimes like to take a glance at the content of one of the ePub books in my iTunes library. iTunes displays PDFs by sending them to Preview; it should offer a display of ePubs as well, even within iTunes.
6. Allow keyword tagging

Programs such as iPhoto allow you to tag items with keywords. iTunes should offer this same possibility. You might want to enter the names of artists, songwriters, or producers; you might want to add the venue where a live recording was made; or you might want to add other information that you would later use to create smart playlists.
7. Offer smart playlist templates and playlist layout templates
If you make a lot of smart playlists, you'll find that you often use many of the same conditions, but each time you create a new one, you have to start over from scratch. iTunes should allow you to save smart playlist templates so you can easily use the same conditions with a new playlist. Doug Adams has released a free program called Smarts that does this, but it would be useful if iTunes could manage playlist templates.
Also, I find that for both smart and regular playlists, I tend to want certain columns to display. But I always have to make changes, as each new playlist takes on default display settings that I can't alter. I'd love to be able to copy the display settings from one playlist and apply them to another, or store default settings, much as you can do in the Finder.
8. Provide more font size settings
With the advent of larger displays, using smaller pixels, I find that iTunes' font sizes aren't always ideal. I'd like more flexibility so my aging eyes can see the info in my iTunes library a bit more easily.
Those are my choices for new, minor features. What about you? What do you want to see in the next version of iTunes?
[Senior contributor Kirk McElhearn writes about more than just Macs on his blog Kirkville. Twitter: @mcelhearn Kirk is the author of Take Control of iTunes 10: The FAQ.]