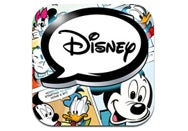 For the first time, Disney's extensive collection of comics is digitally available in one place—on the newly launched Disney Comics app for iOS devices.
Disney Publishing Worldwide released the Disney Comics app on Friday, giving readers access to more than 50 comics, short stories, and graphic novels. Stories range from classics starring Mickey Mouse to new comics featuring Toy Story and Cars 2 characters. Though the app's initial batch of 50 stories is only a fraction of the 25,000 original comic pages Disney creates each year, there's more to come: The company will release two new titles each week.
Users can customize their reading experience by choosing between portrait or landscape mode and automatic or manual page turning. Other features include comic sound effects, tap-to-zoom (on iPad only), and Facebook sharing. Readers can also preview a comic before purchase, receive updates on newly available titles, and save comics directly onto an iPad, iPhone, or iPod touch for offline reading.
The Disney Comics app is available for free from the App Store and requires iOS 3.1 or later. In-app purchases of comics cost $1 for individual stories and $4 for themed bundles.