The next few months could put the prognostication skills of several silly pundits to the test, as some analysts are now predicting a resurgence of the iPhone's market share at the expense of Android. The Macalope's not going to risk putting his own hoof in his mouth by saying that's definitely what's going to happen, but it sure seems plausible. And schadenfreudiriffic.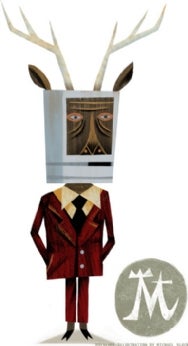 First, though, a note. The Macalope will often link to one of his previous takedowns of a silly pundit instead of directly to said silly pundit's original masterpiece. This is deliberate. He's not trying to turn Macworld into an orgy of self-linking (that's something people should do in the privacy of their own home), he just doesn't think some of these people deserve the link back. Where the source material doesn't set off the Macalope troll-dar, however, the Macalope always tries to link directly to it.
However, in the case of Henry Blodget's April piece declaring the iPhone's market share to be "dead in the water," the Macalope specifically said at the time that he'd never link to another Blodget piece on market share. So to link to it now would be a disservice to Macworld's readers—as well as a public safety hazard, since Blodget's work has been known to cause nausea and vomiting in those with sensitive stomachs.
To paraphrase Blodget, Android's stealing all the market share and developers are going to stop coding for iOS any second now because bladdity bliggity bloogity.
To paraphrase.
As nuts as that is, PCWorld's Katherine Noyes has been at it since January at least. The Macalope couldn't bring himself to go back and find out exactly when she started predicting the iPhone would be "a niche device for Apple enthusiasts," because reading open-source fan fiction gives him hives.
But let us end our drive down Memory Lame and return to the here and now.
TechCrunch's MG Siegler says "The Verizon iPhone Halted Android's Surge. The iPhone 5 Could Reverse It." Siegler cites data from NPD, Nielsen, Needham, BTIG and science showing that Android's climb has stalled in recent months, thanks to the Verizon iPhone and the white iPhone. There are probably a number of other factors, including Android Market malware and lower loyalty among Android buyers, but the iPhone's at least part of it.
Blodget and Noyes might want to proverbially check themselves before they proverbially wreck themselves, because Needham's Charlie Wolf thinks we've just seen the beginning of Android's share loss. (The Macalope's not sure if it's cute or disturbing that Wolf's newsletter is called "Wolf Bytes." You wouldn't think that someone named "Wolf" would be a likely candidate for lycanthropy—how obvious is that?—but then you think of Remus Lupin and you're all, whoa, both that guy's names were wolf-themed and he was totally a werewolf! Freaky. What are the odds? His parents probably felt terrible.)
Finally, the Yankee Group has published a study pointing to an iPhone comeback in Europe, saying that 40 percent of European smartphone buyers planned to buy an iPhone while only 19 percent planned to buy an Android-based device. Well, in Blodget and Noyes's defense, what can an outfit called "the Yankee Group" know about Europe? Seriously.
As the Macalope said, he's not saying the iPhone's about to be the market-share comeback kid. It's these other guys who are saying it. The horny one doesn't even really care about the iPhone's market share as long as developers keep coding for iOS. He just likes to see silly pundits eat their words.
[Editors' Note: In addition to being a mythical beast, the Macalope is not an employee of Macworld. As a result, the Macalope is always free to criticize any media organization. Even ours.]