There's a decent word game to be found in Hanging With Friends, an attempt to translate the winning Words With Friends formula to the classic game of hangman. Unfortunately, like the letters of the words you try to solve, it's hidden behind flaws and bugs that mar this initial release.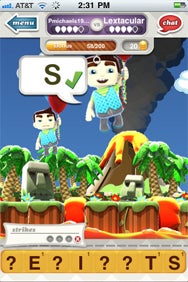 Hanging With Friends comes from the creators of Words With Friends, though the app is distributed by Zynga. (That company bought Word With Friends creator Newtoy late last year.) The Words With Friends influence is unmistakable on this game, right down to the asynchronous gameplay and the Scrabble-esque numbered tiles. But there's also a number of Zynga-inspired touched—heavy Facbeook integration for one thing, a coin-earning element to the game for another—that will be familiar to FarmVille and Zynga Poker players.
You play against human opponents at your own pace in Hanging With Friends. The game sends a push notification when it's your turn. The casual pace where you can go a day or two in between turns works well with the Scrabble-like Words With Friends, but in the more simple game of hangman, it can feel a bit drawn out. At least, you can play multiple games at once—Hanging With Friends supports up to 20 simultaneous games.
In a Hanging With Friends match, avatars of you and your opponent are suspended by five balloons over a lava pit. Get a word wrong, and one of your balloons pops, sending you ever closer to your doom. Miss five words, and you plunge into the lava.
You pick a word from 12 randomly selected tiles, each sporting point values that should be familiar to Scrabble players. (A vowel is worth one point, for example, while a more obscure consonant—Q or Z, say—nets you more points.) The point totals go toward earning you bonus coins, which you can apply to lifelines during the game. Lifelines let you remove strikes, make incorrect tiles disappear, and give you hints as to what letters make up the word; you can use one lifeline per turn. You can freely use each lifeline once per game; earn enough coins, and you can use a lifeline again during another round of your game. (Hanging With Friends also promises that a store is coming soon where you can presumably use your coins to trick out your avatar and buy other bonuses.)
When it's time to guess a word, Hanging With Friends presents you with an A-to-Z array of letters; tap one to make a guess. If you're right, a green checkmark appears and a happy note will sound; if you're wrong you pick up a strike. (The number of strikes you get varies with the length of the word—shorter words offer more strikes.) In one of Hanging With Friends' more clever features, the expressions of the avatars change depending on the accuracy of your guesses—your avatar smiles when you guess correctly, but looks annoyed or even terrified the more strikes you rack up.
As clever as that feature may be, Zynga stumbles on some other elements of the game. When watching a replay of your opponent solve the puzzle, for example, the screen displays the letter they've picked and the number of strikes they have remaining—it does not show the word being solved, however, which takes away some important context. Speaking of replays, the animations feel a bit drawn out, and there's a lag time between solving (or missing) a word and playing a new one that Zynga would do well to tighten up a bit. There are also only eight avatars to choose from at this point, meaning that all too often, you'll be facing an opponent with the same avatar as you.
Hanging With Friends also suffers from the same problem with screen real estate that the iPhone version of Words With Friends faces. It's understandable in that latter game, which has to squeeze an entire Scrabble-style game board onto an iPhone or iPod touch; it seems that for a hangman-esque game, though, that Hanging With Friends could have used the screen space more wisely. (The problem is even more pronounced in the free version of Hanging With Friends, which also squeezes an ad onto the game screen.) Unlike Words With Friends HD, there's no iPad-optimized version of Hanging With Friends.
This initial release of Hanging With Friends suffers from a few bugs. While the game never crashed on me, several of my opponents reported problems with crashes. I did notice a lag in messages from the game—it would tell me that I was waiting on my opponent to solve a word that had already been solved. It's not a show-stopping error, but it speaks to some sloppiness with this 1.0 release.
With a few improvements—especially ones that stamp out any lingering bugs—Hanging With Friends could be a great way to pass the time, especially for people who enjoy the casual pace of previous Newtoy/Zynga efforts. The game is still worth a look if you've got a hankering for a mobile version of hangman. Just be prepared to be patient while Zynga tries to solve a puzzle of its own.
[Philip Michaels is the executive editor of Macworld.com.]