Sony has announced a new range of Vaio laptops that will make it the first vendor other than Apple to use Intel's Thunderbolt technology.
As Electronista reports, Sony is positioning the new Vaio Z range as a MacBook Air competitor, moving the optical drive and the dedicated graphics processor to an external dock in order to keep it as small and thin as possible.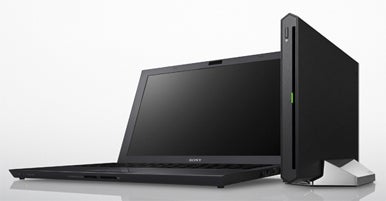 The Vaio Z connects to the Power Media Dock using Thunderbolt, though not in the form of the mini DisplayPort connector Apple uses. The Power Media Dock houses a Radeon HD 6650M video card, an optical drive with the option of Blu-Ray, as well as USB ports, an HDMI port and VGA-out.
The Vaio Z has a 13.1-inch screen with 1,600×900 resolution and weighs less than 1.2kg. It uses a dual-core 2.7GHz Core i7 processor from Intel and comes with up to 8GB of RAM. It will launch by the end of next month.
Apple is rumored to be preparing a new line of MacBook Airs and reports suggest that stocks of the current models are being run down in preparation for this.
Thunderbolt technology, initially developed by Intel under the codename "Light Peak," enables the transfer of data at a rate of up to 10Gbps (gigabits per second). It was thought that Apple would have at least a one year head start over other vendors when it introduced Thunderbolt ports on a new range of MacBook Pros and subsequently in the iMac range.
Meanwhile, Apple has issued a firmware update for update for Thunderbolt, as the first Thunderbolt-related accessories began arriving on the Apple Store Tuesday. The update provides "performance and stability fixes" and requires Mac OS X 10.6.8.