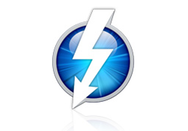 Late on Monday, Apple released a Thunderbolt Firmware Update for Thunderbolt-equipped Macs running Mac OS X 10.6.8—to wit, the latest MacBook Pros and iMacs. According to Apple, "the update provides Thunderbolt performance and stability fixes."
And if you've just been dying to test your new Thunderbolt-equipped Mac's full capabilities—and found yourself stymied by the current dearth of devices—then we have good news: Apple has also added a couple of Thunderbolt-related accessories to the Apple Store early Tuesday.
There's a new $50 Thunderbolt cable, along with various configurations of the newly Thunderbolt-ready professional-grade Promise Pegasus RAID System. The smallest such drive weighs in at 4TB and costs $999; Apple is selling the drive in various configurations, up to a 12TB, $1999 version. Even though you're dropping at least a grand on your new Thunderbolt drive, note that the drives don't ship with an included Thunderbolt cable, so don't forget to add one to your cart.
When you grab the firmware update, Apple warns that you shouldn't disturb or or power off your Mac as it installs. After you restart your computer, you'll see a gray screen with a status bar during the firmware upgrade process.
When you purchase through links in our articles, we may earn a small commission. This doesn't affect our editorial independence.