Jumsoft has relaunched its Money application for the Mac, overhauling the user interface and letting users import information from outside sources.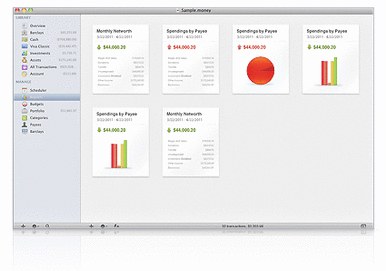 Money 4.0 debuted Tuesday in the Mac App Store; it's aimed at helping households and small businesses manage their finances. Jumsoft says the desktop app now has a "completely redesigned interface," including revamped reports and budgets, as well as new capabilities to download reports directly from financial institutions, receive document-based reports from multiple users, and print checks. Also new is the ability to sync with Money for iPhone 2.0, Jumsoft's $2 app for mobile devices.
Money helps users run their financial life with budget-planning and investment-tracking features. The program also includes a "smart scheduler" feature to queue up recurring financial transactions and reminders of overdue bills. Money lets users track multiple financial accounts, and offers 13 customizable reporting options.
Jumsoft's Money 4.0 costs $19— a free trial download is also available—and works with any computer running Mac OS X 10.6 or later.