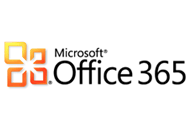 Microsoft on Tuesday launched Office 365, an online office suite with its virtual eye on dethroning Google Apps as the king of the cloud-based workplace. The new service seems well-poised to benefit business users who rely on Apple products to get their work done.
First, some background. Office 365 focuses on business customers; plans are available for professionals and small businesses, midsize and larger enterprises, and education customers. Costs range between $6 and $27 per user per month. (A 30-day free trial is available, too.) For comparison's sake, Google Apps costs $5 per user per month, for businesses of any size.
The Office 365 service offers access to email, documents, contacts, and calendars from any device, including Macs and iPhones. The cloud-based Office Web Apps are, unsurprisingly, compatible with Microsoft Office's desktop counterpart, and can open Word, Excel, PowerPoint, and OneNote documents—but you won't need the desktop suite installed to use the Web apps. The Web apps emulate the core features of their associated desktop apps, and Microsoft says that they'll all work perfectly in the Mac versions of Safari and Firefox.
This is good news for lone Mac users at larger, Microsoft-dependent companies. Wherever there's online access, Office 365 users will be able to open and edit Office files. Mac users who rely on Outlook for Mac 2011 will be able to connect that application to Office 365's cloud service to check college availability, and of course to send and receive email.
Since iOS already supports Exchange accounts, and since Office 365 includes the functionality of Exchange ActiveSync, it's also possible to setup ActiveSync on your iPhone.
Microsoft notes that OneNote Mobile for iPhone is currently not supported by Office 365.
Microsoft bills itself as "the industry leader in productivity for reliability," and offers a financially backed 99.9 percent uptime guarantee for Office 365.
When you purchase through links in our articles, we may earn a small commission. This doesn't affect our editorial independence.