You can do a lot of things from the comfort of your iPhone—manage your to-do list, download an ebook and thumb your way from page one to the end, even snap a photo, edit it, and share it with others. Surely, a comparatively simple task such as ordering flowers and having them delivered to that special someone should be well within the considerable capabilities of Apple's smartphone.
It's not—not even remotely. For the past few weeks, I've been testing apps that let you shop for and order floral arrangements directly from your iPhone: Flower Coach by Teleflora ( ), California Blooms ( ), and mobile offerings from the ProFlowers ( ) and 1800Flowers ( ) services. As it turns out, you may be able to do a lot of things on your iPhone, but saying it with flowers isn't one of them.
A small portion of the blame falls upon the phone itself. The iPhone's design is revolutionary in many regards, but its screen size and onscreen keyboard don't lend themselves to prolonged e-commerce shopping sprees. Even so, the flower-ordering apps I've been testing do very little to take these limitations into account. In fact, the four iPhone apps we'll look at for this article suffer from a variety of design missteps that make ordering flowers a feat fit only for the foolhardiest of mobile users.
Shopping shortcomings
It's when you search for floral arrangements that the limitations of the iPhone as a device for mobile shopping become most apparent. Blame it on the screen—while there's plenty to love about the iPhone's 3.5-inch display, it doesn't leave a lot of room for displaying goods or services. Shopping apps either have to stack their wares on top of each other, forcing you to scroll down a lengthy list of products, or they put a single product on each screen, making you tap to jump back and forth. Contrast that with shopping apps on the iPad—Catalogue, a catalog aggregator from TheFind.com offers an ideal example—where you can flick from page to page on your tablet just like you would in a printed catalog, and the iPhone shopping experience just doesn't match up.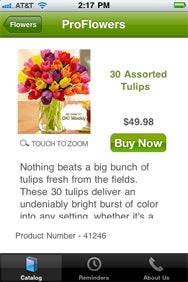 Three of the flower apps I looked at rely heavily on tapping to navigate through their wares. The ProFlowers and 1800Flowers apps include categories to help you find what you're looking for, but in reality, it just adds more tapping. Tap Occasions in ProFlowers to start shopping for arrangements, then tap another category (Birthday, say, or Anniversary), and then tap one of the 30 or so listings to get more information about a particular product. Want to view another arrangement? Tap the back button and then go back to the list of floral arrangements to begin the process anew.
Things get even more frustrating with Teleflora's Flower Coach app, which forces you to use an automatic note generator of dubious value before you can even begin shopping for flowers. Once you've selected an occasion and let Flower Coach auto-generate a sincere message from the bottom of its algorithm-driven heart, you're presented with a swipeable list of floral arrangements. The trouble is, the navigation arrows in Flower Coach are so faint, it's difficult to tell when you've reached the end of the selections.
California Blooms offers perhaps the best shopping navigation of the apps I tested—it's a scrollable list of that florist's offerings. But that's largely a product of the app's limited selection—it specializes in roses, so really, you're just selecting the color of rose you want to send to your intended. Still, it's a relatively painless way to find and select flowers, even if California Blooms did arrive at that approach by default.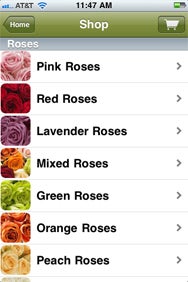 None of these four apps offers a way to search for specific flowers or arrangements, nor can you star favorites for comparison shopping. That's a particularly glaring shortcoming, as it means you can't stack up arrangements by price or appearance—not without relying on your memory, at least. With the exception of ProFlowers, the apps give you the option of emailing links and information about a particular arrangement. It's a cumbersome workaround to a favorites feature, but it's better than nothing.
A few of the apps I looked at offered their own unique features to improve the shopping experience. California Blooms keeps a record of your past orders so you can see if you've gone to the yellow rose well one too many times. ProFlowers offers a nice reminders feature, where you can send yourself notifications in advance of a big occasion like Mother's Day, a birthday, or anniversary. Nice though these add-ons may be, they aren't enough to make mobile flower shopping the kind of seamless experience you'd expect from an iOS device.
Out of order
If shopping for flowers on the iPhone is tedious, then actually placing an order from a mobile florist app borders on the tortuous. When it comes time to order flowers, you not only have to select a delivery date, but enter in the address of your recipient as well as your own billing information. That's a lot of fields to navigate on a small screen and a lot of information to input on a on-screen keyboard.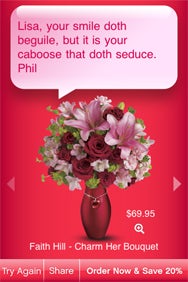 The developers of the four apps I tested seem to recognize that fact. Each one either features a dedicated phone icon or a tappable number which lets you circumvent the app and place your order over the phone. It's as if the developers are saying, "Yes, we realize it's absolutely painful to tap out delivery addresses and credit card information on that keyboard. Why don't you just call us up and tell us what you want?" Which is all well and good unless you're using any of the apps on an iPod touch.
Still, the purpose of this exercise was to test every aspect of these four apps, and that meant placing an actual order. So I tapped out my name, billing information, and the addresses of recipients on each and every app—and boy, do I wish I had just broken down and tapped that dedicated phone button instead.
ProFlowers deserves being singled out for an especially awful implementation. While the other app makers at least made an effort to optimize their ordering pages for the iPhone, ProFlowers seems to have taken a Web page and crammed it onto the iPhone's screen; in order to see any of the fields, you've got to use pinch gestures to zoom in on the page. It's remarkably easy to miss a key data field using this pan-and-scan approach, which will put you right back at square one.
In contrast, two of the other apps make a bit of an effort to remove some of the pain out of all this data entry. Both California Blooms and 1800Flowers let you import recipient data from the Contacts app, which saves you a little typing. California Blooms also includes a progress bar in its ordering process, letting you know that there's at least a light at the end of the data-entry tunnel. It doesn't totally take away the trauma of manually placing an order, but it's a step in the right direction.
The aftermath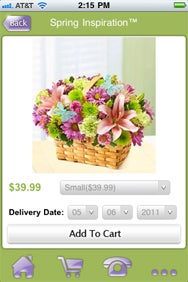 Unlike with other iOS apps, your experience with these florist apps doesn't end once you place an order and return to your iPhone's Home screen. There's also the not inconsiderable matter of whether your flowers will arrive at their intended destination.
This would seem like a no-brainer, wouldn't it? After all, delivering flowers is the entire raison d'être for these kinds of apps. And yet, the flowers I ordered via the 1800Flowers app never materialized on the agreed-upon date.
Did I mention I ordered these flowers from 1800Flowers for my wife? For Mother's Day? For her first Mother's Day as a new mother?
After a series of increasingly pointed emails, I was able to secure a refund from 1800Flowers. (The company initially offered me a discount on a future order.) A brief glance at the user reviews in the App Store suggests my experience was not atypical. Since the primary reason to use an app like this would be to make sure that flowers get delivered, it is hard to view 1800Flowers as anything other than an abject failure.
The other apps managed to deliver my flowers to their appointed destination, with varying degrees of customer care. Flower Coach delivered its order, though late in the day—the flowers arrived at 7 p.m. local time—and only after a nervous email to customer support. California Blooms delivered its order as scheduled; however the company never sent a confirmation email that it received my order, a sore spot with me. I did get an email from the florist several days after placing my order that it would be delivered the next day as scheduled, but the lack of an immediate order confirmation made me worry that my purchase had disappeared into the ether.
Interestingly, it was ProFlowers—the app with the clumsy interface and horrible ordering procedure—that offered the best post-order customer service. I received no less than three emails from ProFlowers about the status of my order, from the time it was placed to its eventual delivery. It was a pleasant experience that almost—almost—made up for the general clunkiness of ProFlowers' app.
Final thoughts
If ProFlowers were able to apply the same kind of attention to the browsing and ordering aspects of its app as it did to customer service, it would be the cream of the iPhone flower-ordering crop. As it stands, California Blooms finds itself at the head of this particular pack, though my endorsement is less than full-throated given its lack of confirmation emails and the fact that its specialized focus creates a rather narrow floral selection.
Apple likes to remind iPhone users that "there's an app for that"—a marketing slogan that's become so ubiquitous that it's almost a cliché at this point. After my tests of these florist offerings, I do think that there's an app for ordering flowers from your iPhone. Unfortunately, it turns out to be the phone app.
[Macworld.com executive editor Philip Michaels has found his popularity skyrocketing among the people who received flowers as part of his app testing—except for the person who was supposed to get the 1800Flowers order.]