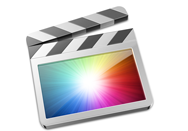 Apple has posted a document on its website titled "Answers to your Final Cut Pro X Questions." The FAQ aims to address the ongoing controversy surrounding Apple's release of the re-architected professional-grade video editing software. (See Macworld's review here.) The document addresses common questions about importing old projects, multicam editing support, and other features—and not every answer will satisfy disgruntled pro editors.
On the question of whether Final Cut Pro X (FCPX) will ever gain the ability to import files from Final Cut Pro 7 (FCP7), Apple is blunt: "[T]here is no way to 'translate' or bring in old projects without changing or losing data." The company says that FCP7 will continue to work under Mac OS X Lion, and that you can import your old FCP7 media files into FCPX. Regardless, Apple's declaration that FCPX will never import FCP7 projects is sure to meet with surprise and disappointment for longtime Final Cut users.
Apple confirms that multicam editing—"an important and popular feature"—is coming to FCPX, stating that "we will provide great multicam support in the next major release." Regarding XML editing, the company says, "we expect to add the functionality to Final Cut Pro X," and that Apple "will release a set of APIs in the next few weeks so that third-party developers can access the next-generation XML in Final Cut Pro X." Apple provides no timeline for the next major release of FCPX, however, nor does it say definitively whether XML exporting would make that release specifically.
The document also addresses the question of whether it's possible to import video into FCPX as you could in FCP7. "Yes," Apple writes. "Final Cut Pro X allows you to import video from a wide range of devices, including many AVCHD-based cameras and DSLR cameras." The company provides what it says is a growing list of compatible cameras.
Some camera manufacturers will need to update their import plug-ins to work with the new 64-bit architecture of Final Cut Pro, and we are working with them to provide these updates as quickly as possible. Until then, you can use your camera manufacturer's import software to convert video for Final Cut Pro X. For example, Sony offers an XDCAM Transfer application that allows you to convert XDCAM video without transcoding so it can be imported into Final Cut Pro X. You can find more information here: https://support.apple.com/kb/HT4724. If you are working with RED cameras, you can use the free RED software REDCINE-X, designed to transcode RED RAW video to ProRes for use in Final Cut Pro X: https://www.red.com/support/all/downloads.
Later in the document, Apple acknowledges that tape-based workflow editing in FCPX is "limited," stating that the software "is designed modern file-based workflows and does not include all the tape capture and output features that were built into Final Cut Pro 7."
Apple also provides answers to questions on whether FCPX supports external monitors. The company says "yes," because "you can place a single window—such as the Viewer or the Event Browser—on the second monitor." Apple also says that it's "been working with third-party developers in our beta program to create" to add external video monitoring, and points to AJA's newly-posted beta drivers for its Kona card.
The document repeats a few answers to editing questions that Apple already provided elsewhere: You can use Duplicate Project (with or without duplicating your media) to save different versions of your project; you can customize keyboard shortcuts (to revert to FCP7's commands, for example) in Final Cut Pro -> Commands -> Customize; and third-party plug-ins require updating for 64-bit compatibility before they'll work with FCPX.
The document also explains how to specify scratch disk locations, how to share projects with other editors, how to store media in locations other than your system drive, and how to hide Events.
Apple says that—once those aforementioned XML APIs are available, "third-party developers will be able to create tools to support OMF, AAF, EDL, and other exchange formats." The FAQ points to Automatic Duck Pro Export, which Apple says already allows you to export OMF and AAF. Apple says that tool will let you export your project to sound editing software like Pro Tools. Regarding assigning audio tracks for export, Apple says that "an update this summer will allow you to use metadata tags to categorize your audio clips by type and export them directly from Final Cut Pro X." Whether that "summer" release is the next major version of FCPX with multicam support, and whether it will include the promised XML export functionality, is unclear. And on the topic of customizing your export settings, Apple recommends the $50 Compressor 4 software, though the company notes that "[t]he most popular export options and formats" are built into FCPX directly.
Finally, Apple says that volume licensing will be available "soon" for quantities of 20 or more; Apple states that it will provide redemption codes to use in the Mac App Store for that purpose.
The letter notably makes no reference to rumors that Apple's been offering refunds to dissatisfied FCPX purchasers. While the company's honesty in the document is most certainly welcome, some of the answers seem unlikely to appease those editors unhappy with aspects of FCPX. Specifically, the permanent lack of support for importing FCP7 projects, coupled with the unclear timelines for when missing features some pros deem necessary will finally be released, will likely do little to unruffle feathers.