The following article is excerpted from Digital Arts.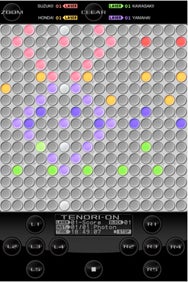 Yamaha have announced a new iPhone and iPad app that emulates the Tenori-On music and lighting sequencer, as used by the likes of Björk.
The instrument maker says that the app, TNR-i, is a faithful duplication of the facilities, design and interface of the pioneering Tenori virtual instrument, which found fame in the hands of Little Boots and Björk amongst others. The app costs $20.
The app features a 16×16 grid of buttons, with the horizontal direction indicating time and the vertical representing pitch. The TNR-i can produce 16 types of sound simultaneously and can memorize up to 16 song patterns. It can switch between song patterns in real time thus creating complex and distinctive musical compositions.
The "random" mode sounds the melody and rhythm constantly change as new twists are added. With the creative "draw" mode, music can be created simply by tracing fingers across the vertical and horizontal grid of buttons.
Related: Video demo of Yamaha's $1200 Tenori-on music sequencer
Users can make Tenori "friends," using a network feature that allows up to four players to be connected. Thanks to the presets and performance files being identical to the hardware versions, performance files between hardware and software versions can be easily exchanged.
The TNR-i app requires iOS 4.3 and later and runs on the iPad, iPad 2, iPhone 4 or fourth-generation iPod touch.