At a Glance
Expert's Rating
Our Verdict
Editor's note: The following review is part of Macworld's GemFest 2011 series. Every day from mid June through July, the Macworld staff will use the Mac Gems blog to briefly cover a favorite free or low-cost program. Visit the Mac Gems homepage for a list of past Mac Gems.
Captur is a free Mac utility that offers easy access to the OS X screen capture command in the menu bar.
OS X has a built-in screen capture feature. To use it, you press command-shift-3 to capture the whole screen (or screens if you have multiple displays). Press comman-shift-4, and a crosshair appears, allowing you to capture a portion of the screen.
If you are unable to press the appropriate keys, you can use Captur. You can take screen captures of their entire desktop, a select area of the screen or particular window or even a Dashboard widget. Shots may be taken either instantaneously or after a brief five-second countdown. After you take a shot, Captur shows a preview of the image with options to either save the image, edit the image in Preview, or ignore (and delete) the image.
By default, Captur saves all images in JPG format. You may also choose to save as PNG, TIFF, GIF, or BMP formats. All shots are time-stamped and saved in a folder of your choosing.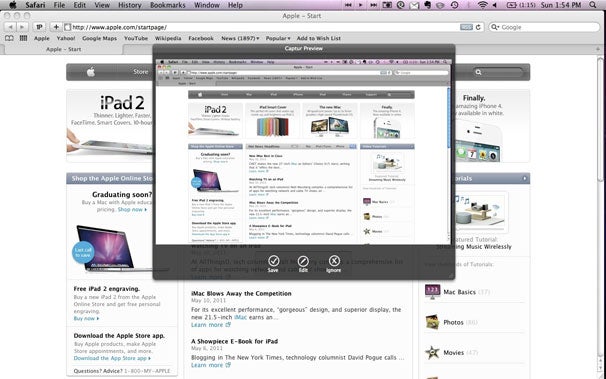 Captur makes taking screen shots easy due to its integration in your Mac's menu bar and because it eliminates the need to remember a hot key combination each time you want to take a screen shot.
The Captur preferences pane does not come to the top of all window" when open and loads behind all other active windows. This is but a minor annoyance, however.
One of the hallmarks of a good utility is how easily it integrates into your existing workflow. Captur makes taking screen shots easy and does so in a lightweight menu bar applet. Captur is a handy application for anyone seeking an easier way to take screen shots on their Mac.
Want to stay up-to-date with the latest Gems? Sign up for the Mac Gems newsletter for a weekly e-mail summary of Gems reviews sent directly to your inbox. You can also follow MacGems on Twitter.