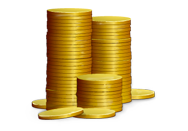 Some of us at Macworld look forward to July 19, 2011 because it's actor Jared Padalecki's birthday, and some of us just love his show Supernatural to pieces. (Note: By "some of us," I mean only senior associate editor Dan Moren.) But now there's another reason to eagerly await July 19: Apple has announced that it will hold its third-quarter earnings call that day, beginning at 2 p.m. Pacific.
Apple's third quarter for fiscal year 2011 covers the calendar months of April, May, and June. If history is any guide, chief operating officer (and acting CEO) Tim Cook will drive the call alongside Apple's chief financial officer Peter Oppenheimer. The duo will presumably crow about all the filthy lucre Apple most likely earned over the months in question, and then take questions from analysts.
If nothing else, you can expect that Apple will announce that half of all Apple Store shoppers are buying their first Macs. Odds that Cook will wish Padalecki a happy birthday sit at about 90:1.
Macworld, of course, will provide live coverage of the conference call with blow-by-blow analysis.