At a Glance
Expert's Rating
Pros
Simple to use and activate
Supports an unlimited number of machines from a single account for one price
Easy access to captured images and videos from website and free iOS app
Cons
Alarm can't be enabled automatically or on a schedule
Our Verdict
This security utility for catching thieves red-handed has a lot of elegance to its approach and requires little in the way of configuration.
You likely have a built-in camera staring at you right now. Why not put it to use outside of the occasional videoconference or family chat? Orbicule's Witness for Mac OS X lets you create a surveillance network using internal iSight and FaceTime cameras on one or more computers registered to the same account. Orbicule describes it as an alarm system as the account binds together multiple machines into one on/off switch.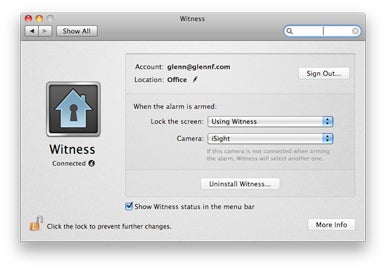 Witness has three components: a Mac OS X app that monitors the scene and shoots pictures and video; an account-based website for retrieving captured media and activating alarms; and an optional iOS app that offers functions similar to the Web site. The monitoring software installs on your Mac, and you configure it via a preference pane. The system requires either a built-in iSight or FaceTime camera, or an external iSight. Orbicule says other external cameras that work with OS X's iChat, FaceTime, and Photo Booth applications generally work.
The software has no trial version: you download and install Witness, and then use the preference pane to purchase a $39 license. You can also log into a previously purchased account. The company says it has a no-questions-asked refund policy. Any number of machines (even a whole computer lab, as Orbicule notes) can use the same account, and there are no subscription fees.
You can optionally include a Witness item in the menu bar through which you can turn on the alarm. If you omit that menu, by unchecking a box in the Witness preference pane, you turn to the Witness website or iOS app to enable the alarm. You can also set a name or location for the device which shows up in the website and iOS app. If you're monitoring many machines, it's good to give them quite specific names.
Because you can have multiple computers assigned to the same account, the website and iOS app let you choose which devices are activated when you prime the alarm. You can't create sets in an account, which is only fair, as the service aims to serve a single location with a single account. However, you could use an include/exclude option for which machines are active to switch manually between different locations.
When the alarm is activated through whatever means, a 20-second countdown appears onscreen, with a regular tick sound that becomes more frequent as the countdown concludes. A car door-lock sound marks zero seconds, a cute gag.
Once the computer's locked, any substantial motion triggers two events: capturing still images and recording loops of 15 seconds of video. Images and video are uploaded to Orbicule's server as soon as they are available. Assuming a thief hasn't cut the power or unplugged your computer without making a move captured on camera, you'll have access to these images to share with the police. The iOS app pops up an alert notification (if you've allowed it to do so when first launched), and you also receive an email message warning you about the trigger being hit.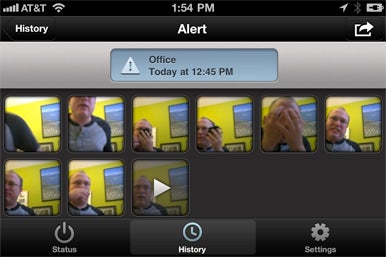 The website is tidily designed and provides access to a history of when the alarm system is turned on and off, and any "alerts," which show all images and video captured at that time. A big alarm slider lets you turn the alarm system on or off. You can use Exclude buttons next to the description of each registered machine to opt it out of an alarm, or click Include to bring it back into the set.
I found in testing that all the moving pieces worked fine: priming the alarm through the website or iOS app, including and excluding computers, and having photos and videos uploaded. The one quirk is that Orbicule opted to use H.264-encoded video in its unencapsulated form. That works fine in Safari on the desktop and in the iOS app, both locations where Apple supports H.264 natively. In Firefox, you have to download the video and view it with QuickTime Player. I also received a QuickTime plug-in pop-up every time I visited the Witness website, which I had to dismiss. Orbicule should sniff the browser that's connected and provide links for users that can't show H.264 natively.
The other mild conceptual flaw is that the alarm has to be activated by flipping a software switch. There's no option in the current release to have the alarm system trip after a period of time or at certain points every day. Scheduling would be useful for office or computer lab machines, or even when one is sure to be away from home on weekdays.
It would also be smart if Witness integrated with theft-recovery software, such as Orbicule's own Undercover. I would love to be able to set the system so that if it were triggered, it flipped off a monitoring switch on the recovery software automatically—but didn't report it to the police until I'd confirmed I was actually ripped off.
Witness has a lot of elegance to its approach, and requires little in the way of configuration or fuss. It's an easy way to layer the potential of catching a thief in the act and recovering stolen property without requiring much in the way of management.
[Glenn Fleishman is a senior contributor to Macworld.]