Witness Remote from Orbicule pairs neatly with the Witness alarm software for Mac OS X, which costs $39 for an account that maybe used with an unlimited number of machines. The Mac software installs on computers and keeps tabs on movement through built-in and external video cameras when the alarm is set. Registering a computer to a Witness account adds it to an alarm set.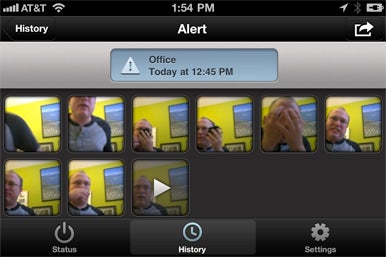 The Witness Remote app takes the place of Orbicule's website for Witness. You log into an account, and see the status of the alarm system, as well as a large slider to turn the alarm on or off. You can tap the Exclude button next to each computer's description to keep it from being activated as part of that account's set.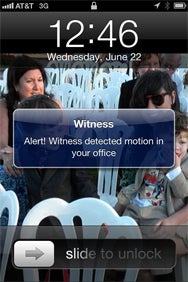 A History tab shows you all the times the alarm has been turned on and off, as well as any "alert," when a motion trigger has the software start capturing photos and video through the Mac's camera. You tap an alert, and then can view photos and videos in the software, as well as email one or more of the images or movies as attachments.
If the alarm is triggered, and you've allowed the app to send you pop-up notifications, a message immediately appears. That's far more useful than the Web site, where you need to log in and navigate. You're informed immediately when motion is detected and can instantly view pictures and video in near real time, while calling the police—and even emailing the media to them.
If you've opted to use Witness for Mac OS X, the free Witness Remote app is an invaluable companion. There's no way to ensure that your home or office never has a break in. Witness Remote lets you get an instant and first-person glimpse at the thief.
[Glenn Fleishman is a senior contributor to Macworld.]