A recent Nielsen survey on smartphone growth concludes that Apple's iPhone is catching up with Android devices in popularity. While Android owners still make up most of the smartphone market at 38 percent compared to the iPhone's 27 percent, the latter has seen the most growth in the past few months.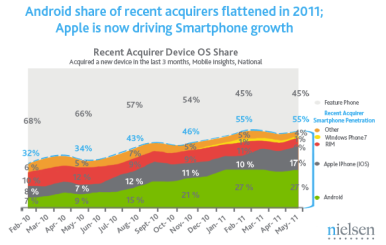 From February to May of this year, the iPhone jumped from 10 percent to 17 percent of newly purchased phones, according to Nielsen. The iPhone's steady rise is likely attributable in part to the February launch of the Verizon iPhone 4. Android, however, saw no growth during the same time period, remaining at 27 percent.
Given that Apple's latest model of iPhone—the iPhone 4—is over a year old, it's likely that the iPhone's growth will increase even more dramatically, assuming Apple does release a new phone later this year. The upcoming release of iOS 5 should help, too.
It seems that for both smartphone operating systems, the best days may still be ahead. Overall, Nielsen says, people are buying more smartphones now than ever. Last May, smartphones constituted 34 percent of handheld device purchases. Now the majority (55 percent) of people choose smartphones over feature phones. That trend will only continue as carriers entice customers to upgrade to newer, more advanced phones.