Reader Jim Arsenault seeks to share contacts. He writes:
I want to send the email addresses for members of a group in my Address Book to a friend so that he can use the addresses. He uses a Windows-based machine. I do not want to copy and paste the addresses one at a time into the body of an email as there are a lot of them.
Download a copy of Andreas Amann's always-helpful Mail Scripts and run the installer. If you don't see an AppleScript icon in the menu bar, launch AppleScript Editor (found in the Utilities folder), open its preferences, and in the General tab enable the Show Script Menu in Menu Bar option.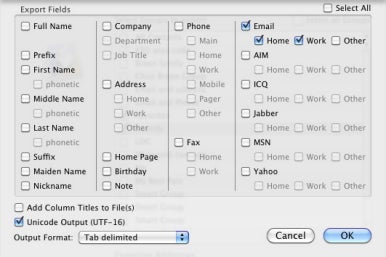 Having done that, click on the AppleScript menu in the menu bar, select Address Book Scripts, and then choose Export Addresses. The Export Addresses application will open. From its window select the group that you'd like to export email addresses from and click the Export button. In the sheet that appears, select the fields you want to export—Email, in your case—and any elements within that field such as Home, Work, and Other.
From the pop-up menu at the bottom of the sheet choose an output format for the data—your options are Tab Delimited, Comma Separated, and Custom Delimiter. The application will then create a text file that contains just the information you want and place that file on the Desktop. Simply attach that file to an email message and send it to your friend.