Another week, another round of iOS accessories that prove the versatility of your iPhone, iPod, and iPad. If you believe the hype, music, golf, driving, and even your health can all be improved with the right add-on. Read on for all the details and decide for yourself.
Adonit: This accessory maker has come up with an environmentally friendly Bluetooth keyboard case for the iPad 2, the Writer 2 ($100). The device is made from polycarbonate, aluminum, and biodegradable fabrics—among other materials—making it easy to recycle when it reaches the end of its life. The case incorporates magnets to work with the iPad 2's sleep/wake feature, putting the tablet to sleep when shut.
Audyssey: Seeking a bit of Bohemian design in your sound system? Audyssey has announced the Lower East Side Media Speakers, "inspired" by that Manhattan neighborhood, according to the company. While not iOS-device-specific, the speakers' compact size make them easily transportable, and the system includes an optical-digital audio input, making them a great match for the Apple TV and AirPort Express. The $200 speakers will be available in the third quarter of this year.
Bweasel: If you're looking for a lightweight stand for your new tablet, the $25 Bweasel Stand for iPad 2 —an updated version of the original Bweasel we previously reviewed—is now available. This three-ounce, wire-frame accessory can display your tablet in portrait or landscape orientation, at a variety of angles—from nearly horizontal to nearly vertical. (Bweasel says the stand also provides a better grip when holding the iPad in your hand.) The Bweasel stand is pitched at travelers and other iPad owners who use their tablets out "in the field."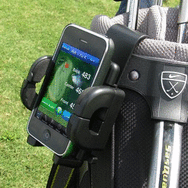 Bracketron: The $30 Golf Bag GPS Mount lets you clip your iPhone—or just about any other mobile device—securely to the top of your golf bag, letting you take calls, check e-mail, or even run your favorite golf apps while you're out on the course. It can even rotate 360 degrees to allow for optimum viewing.
Fanny Wang: If the white earbuds aren't providing the powerful thumping bass you want, Fanny Wang's new $250 DJ Over Ear Wang Headphones might do the trick. The new model, which will be available at the end of August, includes an inline cable splitter and an Apple-style inline remote; is aimed at DJs and audio engineers; and is powered by two AA batteries to provide 6 db of "bass boost."
Gotality: Many people use their iPhone to listen to music while exercising, but here's another way to use your iPhone to stay healthy: Gotality's $60 Cardio Fitness Pack helps you monitor your heart rate during exercise. The Pack includes an ear clip that plugs into your phone and monitors your heart rate, as well as an exercise armband to carry the phone or an iPod touch. The system works in conjunction with Gotality's free appto help you set fitness goals and measure your exercise progress. If you use the iPhone and its GPS, the app can also monitor the distance you traveled during your workout, and show your route on a map.
Griffin Technology: Your driving experience could soon become cleaner with Griffin's CarTrip device. The system includes a device that plugs into your vehicle's on-board computer and sends data to an iPhone using Griffin's forthcoming CleanDrive app, helping users monitor their gasoline use and track their car's maintenance needs. Griffin says the CarTrip will cost $90. It is not yet available for order.
iHome: Clock radios that let you charge your iPad are the latest thing in iOS accessories (see the entry for Philips, below, for another example). iHome's latest contribution to this field is the $140 iD85, an "app-enhanced" clock radio that lets you charge any iOS device overnight and play audio files on that device when you wake up. The system works in conjunction with the free iHome+Sleep app, and it features a remote control plus a number of programmable settings to ensure you wake up, gently, at the right time on the right days.
Incase: This accessory maker is expanding into audio with its new line of iOS-compatible Incase Soundesign headphones and earbuds. The line will include four models, each with an inline remote/microphone module for use with Apple's mobile devices. Incase hasn't yet released price information; the headphones will hit the market in the fall.
Incase has also announced the $50 Flex Wristband for iPod Nano 6G, a creative way to turn your tiny iOS device into a nerd-chic wristwatch.
JVC: If you like to rock it old-school—and 1998 qualifies as old-school these days—JVC has reintroduced, at $300, its Kaboom boombox, adding a bit of technology that didn't exist when the product was first released 13 years ago: a dock for the iPhone and iPod. The boombox still sports an FM tuner and CD player; comes with a shoulder strap; and provides 40 watts of bass-heavy sound.
New PC Gadgets: If you've ever envied your local Apple Store's acrylic docking displays for the iPad 2, the $75 iPad 2 Display Dock might be what you desire. Offering an elegant way to both charge and display your tablet, the crystal-clear stand also provides a docking port at the top for an iPhone or iPod. The stand is pitched for both business and home use—dress yourself in a black mock turtleneck, blue jeans, and New Balance sneakers, and you can pretend you're Steve Jobs.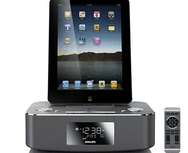 Philips: This electronics manufacturer has two new products for owners of iOS devices. The company's new $120 DC291/37 Docking System for iPod/iPhone/iPad—Aluminum lets you power up, and play audio from, any iOS device—including, yes, your iPad. The DC390/37 Docking System for iPod/iPhone/iPad—Aluminum Dual Dock is quite similar, but lets you dock _two_ devices—your iPad and your iPhone—at the same time. (Philips doesn't provide pricing information for the DC390.) As their names imply, both devices come in an aluminum finish; each also includes a remote control so you can adjust your settings from the comfort of your bed.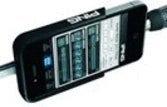 Ping: If you want to improve your short game, Ping's new $30 Ping Cradle lets you attach your iPhone 4 or iPod touch to your putter, then use the company's iPing app to measure and analyze your stroke and impact angle, helping you fine-tune your mechanics and increase the consistency of your stroke. You can also use the app to compare your stroke to friends and to pros on the PGA Tour.
Pioneer: This veteran audio company integrates your iPhone 4 with your car stereo with the new $400 AppRadio system. Download Pioneer's AppRadio app, then plug in your phone, and you can control your music—both from your iTunes collection and from services such as Pandora—and make calls using the system's 6.1-inch in-dash touchscreen. You can also access your contacts, calendars, and photos. Pioneer says AppRadio "encourages safe driving" by providing access mainly to iPhone 4 applications suited for in-car use.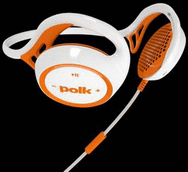 Polk Audio. This audio veteran is instead reaching out to athletes and other iPhone and iPod users who like to take their music to the streets. Polk has announced a new line of UltraFit headphones that include both in-ear and on-ear models; each model includes an inline remote/microphone compatible with iOS devices. The new models also offer noise-canceling features, as well as tangle-free, color-coded cables to let you easily distinguish the left earbud from the right. Polk says the new line will appear in stores this fall; the company offered no information on pricing.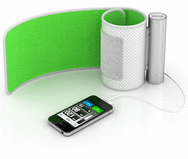 Withings: Your iPad and iPhone aren't just for fun and productivity—they can also help you stay healthy. Withings' new $129 Blood Pressure Monitor plugs into your iOS device and helps you track your vital statistics with the aid of the company's free app. You can't get your blood pressure by putting your thumb on the screen—the device makes use of old-fashioned pressure-cuff technology that measures your systole, diastole, and heart rate. The app saves and tracks those health stats over time; you can share that data to your own page at the Withings site, or to health-records sites such as Google Health and Microsoft HealthVault.
Xmultiple Technologies: This California company has unveiled its line of $40 iXP1 PowerShark Slimline chargers—actually rechargeable batteries that can be used to juice up your dock-connector devices. Each battery is about the size of a AAA battery, and can power your iPhone, iPod, or, more slowly, iPad. The product is available in blue, red, yellow, purple, or black.
iPad (1st generation) Family